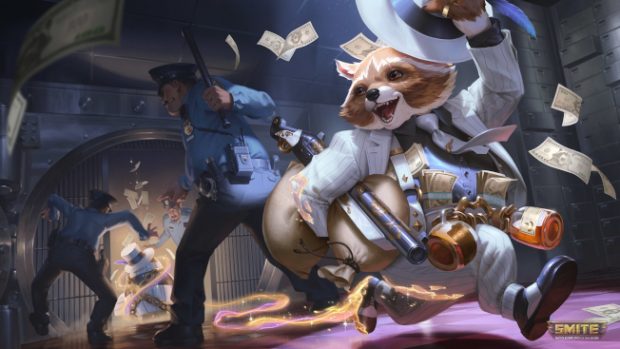 Well, it's only been about a month since we told you another god would be joining the Japanese pantheon in Smite, and he's finally arrived. In case you missed the patch notes — which have been up for a while, because that's how Hi-Rez does things — you can read all about this various abilities there. That said, I was right and one of this abilities does use sake, apparently as a way to gain health and attack his enemies. It seems like a terrible waste to throw good alcohol at your foes, but if it works for him…
Of course, the update also includes several new skins. Four of these are for the new god and include not only an Ascended and Mastery skin, but also the Bake-Danuki skin, and the somewhat less likely mafia-themed Don Zaburou skin. (See above.) There's also a Space Cadet Vulcan, a Snow Kitten Bastet, and a Demon Scourge Athena. Seventeen of these skins arrived earlier this month and four additional ones are coming in January.
A quick rundown on some of the highlights for the update is available via the Smite Twitter account. Or, if you'd like to read the patch notes, they're available on the site.
So much new content has hit the Battleground today as part of #TheLegendaryTanuki Update!

Get all the details about what's new on the blog: https://t.co/NCJFXAxoLQ pic.twitter.com/8V2WPZneYD

— SMITE (@SMITEGame) December 15, 2020
In additional news, the Smite Friends event is now live. If you'd like a quick and easy gift to give to one of your Smite friends — while getting yourself something at the same time — now is the time to buy some skins. During the event, you'll recieve a gift token to share when purchasing skins in the game store. You'll need to log in to find out more.
The SMITE Friends event is live! When you buy skins in the event, you get a gift token to share with a friend!

Log in, check out the skins available in the event, and make your friends' holiday season brighter! pic.twitter.com/9QkLyjB10r

— SMITE (@SMITEGame) December 15, 2020