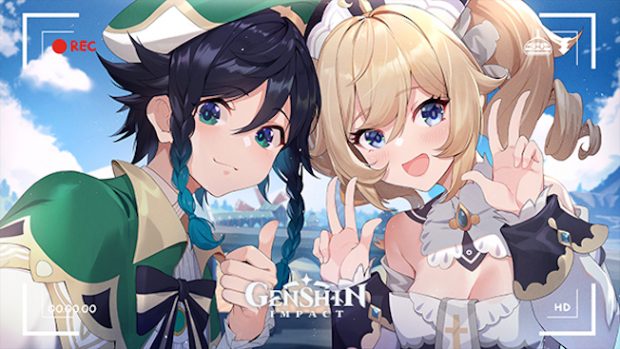 It's time to celebrate Mondstadt, the City of Freedom. The Windblume Festival is under way in Genshin Impact, and there's a lot (in addition to the general content update) for players to do. As with all events, there are event-related goals for the battlepass, mostly achieving a certain point level in the various event specific activities.
Speaking of the activities, there are three challenges available. The first, Bullseye Balloons tests your archery abilities. To participate in this activity, players will first have to find it. To do that you'll need to read the instructions on the event page. Once a location is found, all you need to do is score consecutive hits on the correct balloons and earn points. There are different balloons with different effects. Watch out for the Heartbreak Balloon, it will mess up any combos you may have going on.
For the gliding fans among us (and who isn't) there's Floral Freefall. This event also has players seeking out special locations, only this time you're leaping from high platforms and collecting flower balls in the sky. Different flower balls offer different points, and going through the Finish Line Garland tops off the score with an additional 400 points.
Ballads of Breeze gives players the opportunity to test their rhythm game skills. Hit the right keys at the right time (in time with a shrinking circle) to increase your combo count. It's pretty much what you'd expect from a rhythm game.
Finally, Peculiar Wonderland is an event (that once again, players will have to locate first) in which players must complete three random Peculiar Challenges and a Peculiar Trial in order to earn rewards. Players can also take on Peculiar Conqueror tasks in order to earn Primogems, Talent Enhancement Materials, and more.
MiHoYo posted a detailed rundown on the festival and all its related activities earlier in the week. They've also provided some tips on how to excel at each of the activities in order to get the most out of them.
Outside of the game, miHoYo is also hosting a Windblume Festival TikTok contest. Players can submit original short clips and earn cash prizes and Genshin Impact merch. The TikTok video needs to have a Windblume Festival theme, but the format is open to interpretation. In order to be eligible, players will need to @teyvatcurator and use the hashtags #GenshinImpact and #Genshinshorts. Players have a chance to win cash prizes varying from $100 to $400 USD. Additional prizes include Genshin Impact Character Acrylic Stands. Rules and all the fine print details can be found on the Genshin Impact forums.