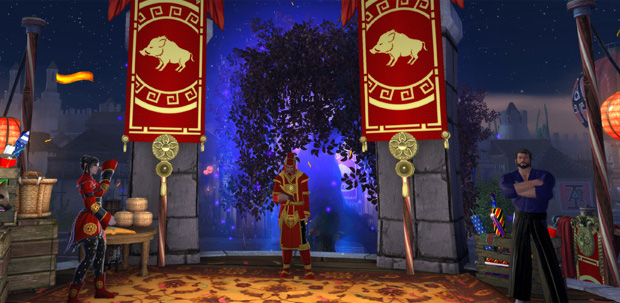 The Year of The Boar is almost upon us, and as with other games, Neverwinter is ready to celebrate. The Feast of Lanterns is underway and will be available for the next week — ending on February 7.
During the event, players will be able to earn Boar and Lunar Coins from helping out with the festival. Lunar Coins can also be obtained via the Lunar Coin Packs in the Zen Store — which contains the currency and may include new hairstyles or a new companion.
There are three primary event quests players can participate in. Help the pyrobolist in the Nightly Fireworks quest, deliver red envelopes to NPCs in the Protector's Enclave, or help comfort the dogs upset by the fireworks you helped set off. (Actually, just do that anyway, because sad, scared doggos aren't good.)
Do these things daily and earn the different coins to turn in for Morchi, Niangoa, and Fireworks.
And, of course, if you have the cash to spend, pick up the items in the zen store. Details on these items can be found on the Neverwinter site.