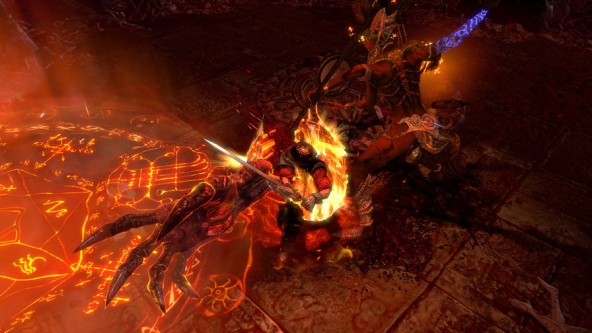 Path of Exile is getting new crafting and personal housing options, thanks to the ARPG's recently announced expansion "Forsaken Masters". Scheduled to be released on August 20th, the mini-expansion continues the storyline set in Wraeclast by introducing players to seven exiled Masters. Each Master possesses their own specialized crafting skills and are willing to train visiting adventurers in exchange for their assistance.
This sets the stage for player progression in "Forsaken Masters", as training with each master will have you completing their own unique missions specific to their particular specialty. Out of the seven Masters only two have been revealed thus far, Haku the ArmourMaster and Vorici, a Master Assasin.
Haku for example, may ask for your help in cleansing an ancestral area while Vorici will send you off to assassinate a number of high-priority targets. Each mission can have several variations, and the pool of variations for each type expands as players explore deeper into Wraeclast.
As players complete these tasks they'll earn a Master's trust, eventually unlocking personal Hideouts, which can be customized with hundreds of cosmetic decorations. Serving as a hub, these hideouts house trusted Masters who can offer daily Missions and unlock upgraded crafting benches, which progressively give players the opportunity to modify their items in new ways. Beyond modifying existing items, each Master also has their own wares to sell, with each item containing a new, build-defining mod.
These are of course, just the major highlights of the patch, as Grinding Gear Games also plans on adding additional skill gems, new challenge leagues, and an updated skill tree. Even many of the existing boss fights will be revamped, in order to intensify the challenge they present.
For a full list of the additions and to see which Masters will be added next, you can check out the official announcement here.