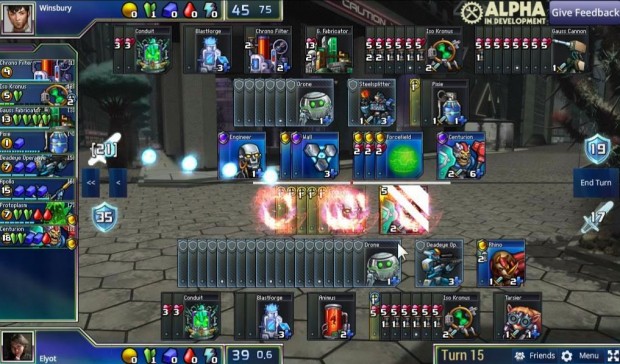 With just hours to go, Lunarch Studios has reached its Kickstarter funding goal for Prismata. The RTS/Card game mash up has exceed its $140,000 CAD goal.
Here's the breakdown on where that money will be going for the game as it moves into Beta phases during 2015:
Kickstarter fees + credit card fees: 10%
Taxes + accountant fees: 3% (most of the tax can be offset)
Sound for Prismata: 10% (full AAA quality sound effects for the entire game)
Additional Music: 2%
Character Art: 6% (the rest of the characters for the campaign)
Unit Art: 8% (50 more units + several sets of skins)
Interface Art: 18% (menus, in-game animations, and effects)
Server/system Programming: 15%
Campaign/game Programming: 12%
AI Programming: 6% (strength + campaign features)
Marketing Intern: 6% (blog, social media, etc.)
Server Costs: 2% (amazon EC2/RDS/S3/etc.)
Misc: 2%
There's still time left to reach a stretch goal or two (I'd like to see the $150,000 goal hit which triggers the "Impending Doom Puzzle" to be included in the game), but with hours left this may be a bit of a reach.
Congratulations to the team at Lunarch Studios and I'm looking forward to the improvements made over the next year.