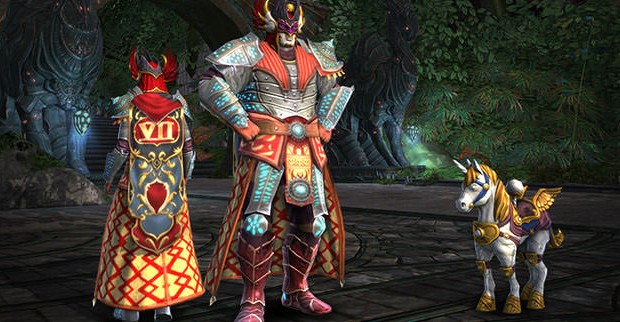 The Carnival of the Ascended is back, and it's kicking into high gear in time for RIFT's 7th anniversary celebration. Between now and April 5th, players on the Live server will want to head to Tempest Bay to join in on all the festivities.
Don't worry Prime server peeps. You may not have made it to Tempest Bay yet, but that's okay because the Carnival is going to come to you. Just look for Winachuck Maguck in Sanctum or Meridian. He'll have you covered.
As with all RIFT events, you'll need to earn that sweet event currency in order to get your hands on some goodies. Goodies… which, by the way… include a super adorable Pegasus companion by the name of Celeste. There are also masks, weapon runes, birthday cake and even a 7th Anniversary Cape available in exchange for all the event currency you'll accumulate.
And, of course, there are a few items available on the RIFT store. Players can pick up some cool looking carnival wings… and perhaps more importnatly, the Greenata mount — a floating, patchwork creation modeled after Greenscale.