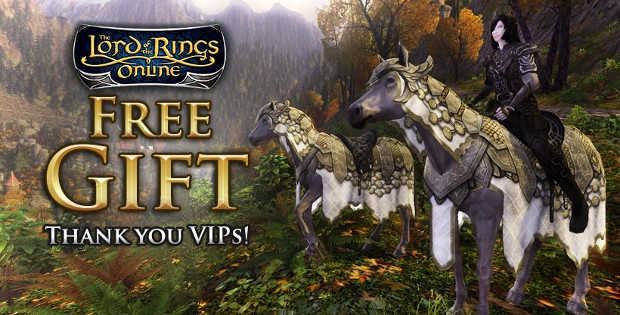 Beginning early next month, Standing Stone Games will be rewarding The Lord of the Rings Online VIPs with a special gift — or gifts. VIP players who log into game between Feb. 6 and March 13 will receive a set tied to a limited edition Premium Account-Wide Mount. The full list includes:
Limited edition Premium Account-Wide Mount
Gives +68% speed and 250 morale!
Includes a War-steed Caparison, Saddle, and Halter!
A mount for all your characters now, and all future ones too!
To receive the gift, players need to have a VIP account (subscription) — although they can register for one during the event — have the riding trait, and have fully logged into the server on at least one character. Once all three requirements are met, the mount will automatically appear in the Skills Mounts Panel and the cosmetics will appear in the Mounted Combat Appearance Panel. If you sign up during the event and are logged into a character while doing so, you'll need to log out and back in for the items to show up.
The good news is that this gift is account-wide, so you'll only need to log in once to be able to use it across the board. For more details on how to receive your gift, check out the official post on the LotRO site.