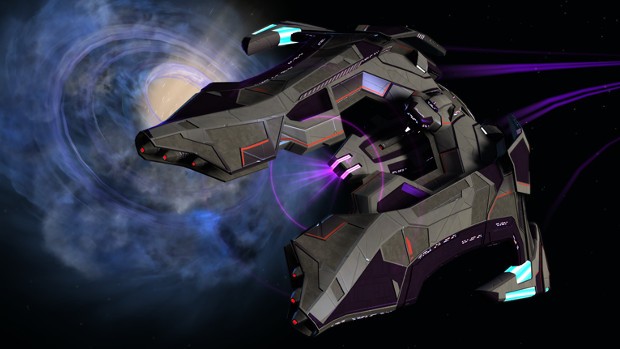 When Star Trek Online's next expansion hits in June, it will introduce a new faction for players to earn reputation with. The Gamma Task Force is an organization made up of scientific groups and military forces who came together to protect against new threats from the Gamma Quadrant.
Players will be able to earn reputation — Gamma Marks — allowing them to increase their standing with this task force by participating in the new "Swarm" queue as well as the Gamma Quadrant Sector Battlezone. In addition, players will also be able to collect an item known as Germanium Carapace Fragments by participating in the Advanced and Elite versions of Swarm, as well as events in the Gamma Quadrant Sector Battlezone.
Both items can be exchanged for Reputation XP and new gear. A list of obtainable rewards can be found on the STO site.
On a related note, the STO team is adding two new items to the Gamma Vanguard Pack. Players who preorder the pack now will receive the T5 Cardassian Galor Cruiser and the T6 Jem'Hadar Vanguard Carrier when Victory is Life releases.
Between now and the the expansion's launch, players will have a new event to look forward to as well. The Mirror Invasion event starts May 10 and will run until the end of the month. During this event, players will be given a Multidimensional Transporter (one per day). Once players collect 14 Transporters they can turn them in via the Event Reputation System and recieve 50,000 Dilithium Ore, 500 Fleet Marks, 250 marks of their choice and a new, unique weapon.