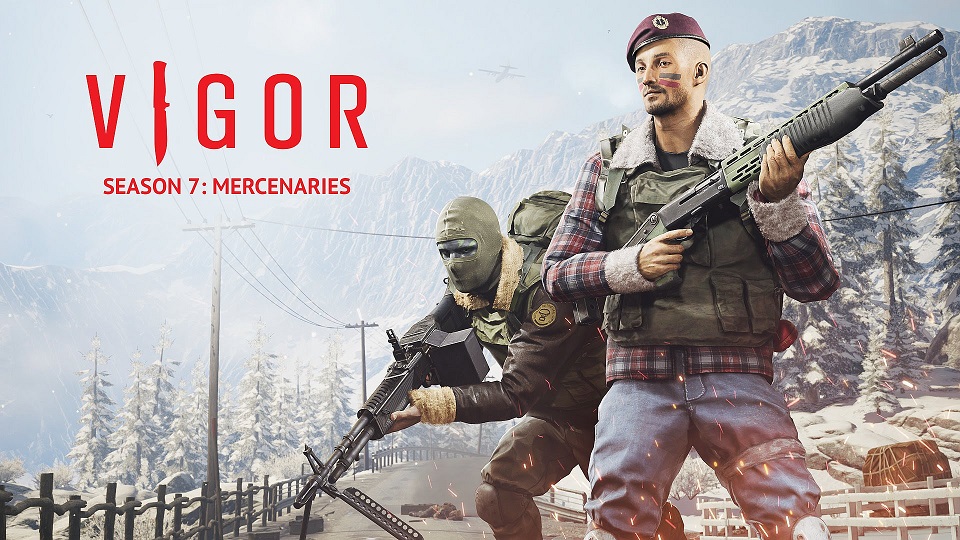 Free-to-play survival game Vigor has just launched its latest season of content, and Bohemia Interactive is encouraging players to leave — not the game, mind you, but the maps. Season 7: Mercenaries adds new weapons and cosmetics, optimizes the game in several ways, and changes up how you can get out of a match alive.
"Openable exits" are new to this season, meaning that some exits need to be opened before they can be used. In addition, in an effort to make it harder for players to simply camp out by an exit and pick off any potential escapees, automated mortar strikes will now target campers who remain in one place for too long. Seeing as how the game is set in Norway in winter, maybe they could have accomplished their goal by giving immobile characters hypothermia.
The new season's battle pass is chock full of mercenary-themed cosmetics, including balaklavas and military gas masks, and they're also bringing their own assortment of weaponry to the field: the La Chiave 12 shotgun and M60E3 machine gun. Shootout mode has been given a new selection of weapons to discover, and the Fiske Fabrikk map is back in rotation.
Admitting that "there aren't a ton of new features this time," the Vigor team took the opportunity to improve on a few lingering issues with the game this time around. Memory optimization has been boosted, which should help prevent dreaded "blue screen" crashes on PlayStation, and there was a longer testing period for this update, "to ensure we deliver the quality you deserve."
Learn more about the Season 7: Mercenaries update on the Vigor site.