A brief change on the Diablo III site — which is now being called a "display bug" by the game's social team — recently seemed to indicate that the vanilla version of the game might be going free-to-play. A screencap of the change snapped by BlizzardWatch shows the base version of the game being listed as "Free to Level 70." That change is gone now. Instead the site shows both the base version and Reaper of Souls as costing $19.99 each — while the Ultimate Evil Edition sits at $39.99.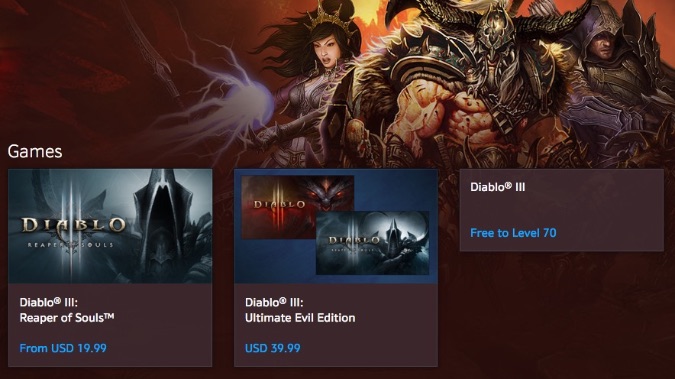 Reasoned speculation on the part of BlizzardWatch is that the "display bug" must be an indication of a free-to-play conversion for the game down the line — primarily due to the fact that the location and appearance of the "Free to Level 70" text doesn't exactly look buggy, but rather looked pretty purposeful. So, unless the Diablo III site has gained sentience and is redesigning itself at a whim, someone had to have done it.
Of course, at this point, we won't really know what the deal is until Blizzard decides to tell us.