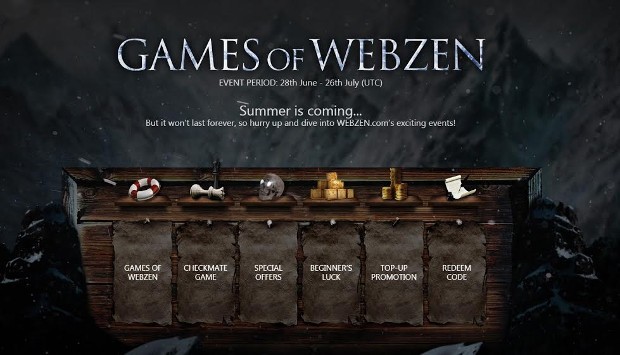 Free-to-play game publisher and developer WEBZEN kicked off a summer event on its global game portal today. The event, designed to celebrate summer, parodies Game of Thrones slightly with its title "Games of Webzen." It introduces a variety of in-game events for all of WEBZEN's games, including ASTA, ELOA, RAPPELZ, Age of Wulin, and more. The events are open to existing and new players.
Games of Webzen starts today and will offer players the chance to earn extra loot, gold, experience, items, and more. WEBZEN is also introducing a special mini-game for all their players called the Checkmate Game. This requires players to log into the WEBZEN site, after which they can play and earn points that can be exchanged for an in-game item of their choice.
And, of course, as with all MMO events, there will be special offers in the game stores. In fact, players can now pick up Wcoins and receive a 30% bonus.
Full details on the event and what's going on in each game are available on the WEBZEN site.