Scott Shicoff Chats Neverwinter's The Maze Engine and Release Date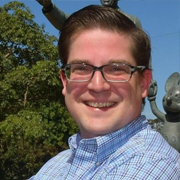 By
Michael Byrne
, Editor in Chief
Perfect World Entertainment and Cryptic Studios will be releasing The Maze Engine update for their free-to-play MMORPG Neverwinter on the PC on March 15th 2016. While XBox One players will have to wait a bit longer for the expansion, I caught up with Lead Designer Scott Shicoff to chat about the return of dungeons, mount changes, and everything else The Maze Engine will bring for players.
Magicman (MM): Can you introduce yourself and tell us a bit about your day to day work on Neverwinter? What's it like to work on such an iconic IP?
Scott Shicoff (SS): Sure thing! My name is Scott Shicoff and I'm the Lead Designer on Neverwinter. My day-to-day tends to center around planning expansions/events, reviewing work, or doing all of the managerial/training tasks one might expect. As you'd probably guess, I don't really get to dive in and get my hands dirty building things all that often, but I'm excited that I get to contribute to the project in broad strokes. It's sort of hard to even comprehend what it means to work on an IP this iconic. Throughout my career, I've been fortunate to work with some very well-known properties, but few reach as far back for folks as D&D. This should come as no surprise, but one thing I learned when I joined the team is just how big a fan everyone is. So many people on the team have stories from tabletop adventures!
MM: Give us a sneak peek at The Maze Engine update coming soon. It continues the story already laid out from the previous Underdark expansion, right?
SS: Correct, this update continues the demonic thread that was started in the last expansion, Underdark. With that update, we had people journey with Pwent, work with Bruenor to recover his crown, and even join Drizzt in his attempt to drive back the madness-inducing Demogorgon. I'm pleased to say that in this expansion, there's even more for players to experience with their favorite characters. We've even taken it a step further in the upcoming Maze Engine campaign. You might just find yourself in the middle of some amazing team-ups. Now that Demogorgon has been driven back, players will find themselves face-to-face with other terrors from the Abyss like Orcus and Baphomet, though luckily, not at the exact same time.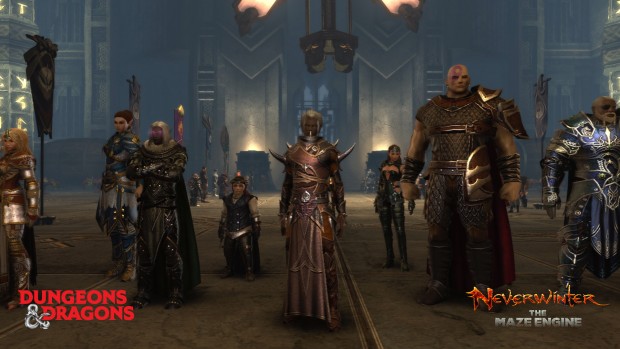 MM: The stand out item coming for me was a return to some more solo friendly content. High end level 60 content tends to be group oriented but this time around even solo players are getting some love all the way to level 70. Can you tell us some specifics?
SS: At Level 60, players will be able to start on The Maze Engine campaign. This campaign can be played solo or in groups if you'd prefer. Cool story aside, it also helps provide some alternate content if you want to take a break from the Elemental Evil zones while leveling up. Though you mentioned solo, it's worth noting that a number of sub-60 dungeons are coming back. These can be done with 3 players and can also help supplement your leveling experience while working towards 70.
MM: Dungeons! YAY! Finally, Dungeons are returning to a Dungeons and Dragons title…seriously though, why did the focus shift away from such an important part of the IP for some time?
SS: We agree that dungeons are super important to the IP, although there were definitely good reasons to remove them. Dungeons were wildly different in terms of time/difficulty/rewards and that meant people really only played the fastest/easiest ones. With this release, we're bringing back four leveling dungeons which have been updated to our new standards (3-player instances with reduced time expectations and normalized rewards), and one epic dungeon that has also gotten an update in similar ways. Do keep in mind that epic dungeons still require 5 players, but with the new queue system, it should be easier to put those groups together.
MM: Now we've seen the dungeons that are coming in The Maze Engine update but they're getting a whole new spin and visual pass. What can we expect?
SS: The amount of rework varies from dungeon to dungeon. Some mostly needed visual improvements, and some were way out of whack with the time investment needed to complete them (Caverns of Karrundax, for example). Story-wise, the regular dungeons haven't really changed. Castle Never, however, has had a massive redesign. In this new epic dungeon, Orcus has moved in and has brought hordes of undead with him. Castle Never has all new boss fights and dungeon mechanics. For example, if you find yourself chained to another adventurer, you'll need to run as far apart from one another as possible. Get too close and you'll trigger an explosion that will significantly damage everyone in the area.
MM: Your first Dev Blog focused on the Campaign portion of the update. What makes The Maze Engine different from previous story updates?
SS: If you're asking about the expansion itself, we're providing a better mix of solo content and group content than we've done in previous updates. This is something that was important to players and we wanted to deliver here. We've also gone through and taken a look at rewards for end-game players and done some updates on that front. Again, I think we've got a better selection of things for players of all levels to try out than we've had recently.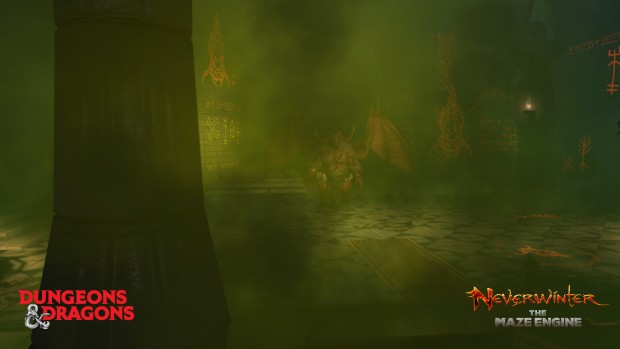 MM: Mounts are getting some love. What's up on that front?
SS: We're introducing two new mount windows to the character sheet – the Mount tab and the Stable Tab. The Mount Tab provides up to four fields – a slot for combat, a slot for passive power, a slot for speed/durability and a slot that allows you to control how your mount looks when you summon it. These slots can be customized according to the types of mounts you've acquired. Epic mounts include a passive power, while legendary mounts include both a passive and combat power.
The new Stable Tab allows mounts to be slotted with new items called Insignias, which will apply different types of powers. When you find an Insignia and slot it onto a mount in the Stable, it will receive bonus powers. Insignias can also be combined to create an additional bonus power, similar to a set bonus. There are five slots for mounts that can be set up in the Stable. The rest of your mounts will be kept in a new bag, which will help free up inventory space.
The Mount Tab and Stable Tab are separate systems, which means summoning a mount in-game won't have an effect on how you set up your mounts in the Stable.
MM: Anytime I speak to the Neverwinter team I ask every member this question. What would you as a fan want to see added next in Neverwinter in the way of content or even new classes?
SS: As a fan, I want to put together a ritual where my Dragonborn can ascend to a full-fledged dragon and take over the Sword Coast! Admittedly that's probably not the best MMO experience for everyone else on the server, but I promise to be a benevolent ruler! When it comes to new classes, I tend to like more in-your-face play, so maybe a Barbarian or Monk? If we find a way to hook up additional peripherals, I could totally see myself playing a Bard ... unless I have to sing. Then, again, probably not the best MMO experience for everyone else on the server.
My thanks to Scott for spending some time with us to chat about The Maze Engine.
---
About the Author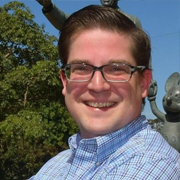 Michael Byrne
,
Editor in Chief
Mike "Magicman" Byrne has been a part of the MMOBomb family for years and serves as the site's current Editor-in-Chief. His love for MMOs and gaming in general has led him to covering games for numerous gaming websites including Gamebreaker TV and XIV Nation where he proudly displays his fanboy flag for FFXIV:ARR.
---
Read Next
You May Enjoy