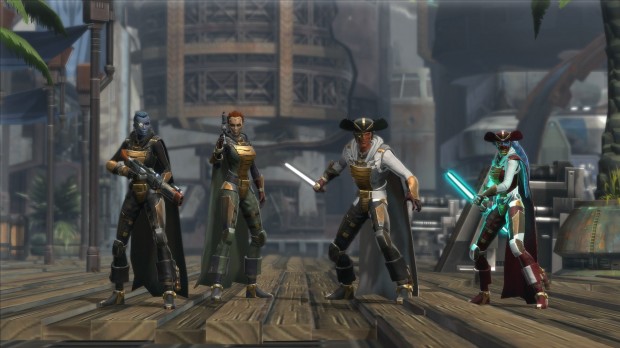 Since today is May the Fourth, I thought it only fitting that I try and come up with something to write about Star Wars: The Old Republic. I poked around the Internet a little bit, trying to find something relevant that I could discuss, and I came across an old IGN piece that served as the site's – and probably a lot of people's – first look at the game, way back in 2008. There's a part of it that, I think, hits upon not only a major issue with SWTOR, but also with MMOs in general.
For all its weaknesses, one thing that BioWare has received near universal praise for in SWTOR is its story. Having eight individual, RPG-caliber stories, one for each class, is a delight, and they weren't included just for the heck of it, or even just because "BioWare does story well." According to the IGN piece (warning: annoying embedded autoplaying video ads), there was a real, sensible reason for it, and it has to do with an inherent flaw of MMOs:
The problem is that the success of the stories in Knights of the Old Republic, Jade Empire, and Mass Effect relied on scripted interactions, a dramatic pace and a sense that the player's actions had a lasting impact on the game world. BioWare admits, "common sense says you can't approach story this way in an MMO." As they see it, the problem with most MMOs, even those that have large story arcs for their characters, is that they try to apply a single story to a wide range of classes and attitudes. In designing content that works equally well for both saints and scoundrels, many MMOs are left with rather generic stories where the only real roleplaying is whatever the player projects onto the action. The solution is to give each class its own story arc.
That's sound reasoning, and, as far as SWTOR is concerned, I'd say "mission accomplished"... sort of.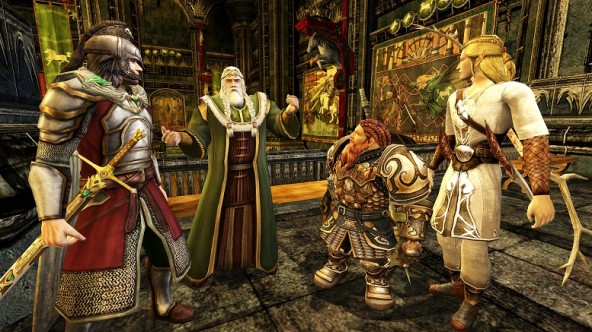 The problem is, what about the rest of your MMO? Sure, we love the story content in SWTOR, as well as in other games, to varying degrees, but what about the rest of the game, especially the leveling process? Again, SWTOR does a commendable job with some aspects of this – planets have a kind of "main storyline" that tells an interesting story – but you inevitably wind up with a lot of filler, "kill 10 rats"-type quests that serve only as tedious busywork to be done between the cool story bits. And once you get to endgame, whether that be raiding or something else, story is usually secondary to loot acquisition. You don't care why your character is killing the big bad, only that you get something shiny for it, especially after your millionth run.
And, apart from dedicated role-players and sandbox enthusiasts, gamers will inevitably prioritize rewards over story in MMOs. How many SWTOR players use guides to figure out exactly what responses they need to give to maximize their companions' affection, or at least try to pick answers that they think are appropriate for whomever they've got with them? Or engage in Light or Dark side behavior because they want to accumulate enough points to get the right gear?
If you make the wrong decision in a single-player game, you can go back to a previous save point to fix things. Or, if you're like me, you let the story take you wherever it goes; even if you don't get the "best" result, you're happy to have your own unique experience. That's a harder line to toe in MMOs, where there are no save points and there's a need to maximize your abilities so you aren't a detriment to your group in instances or PvP – if you're invited at all.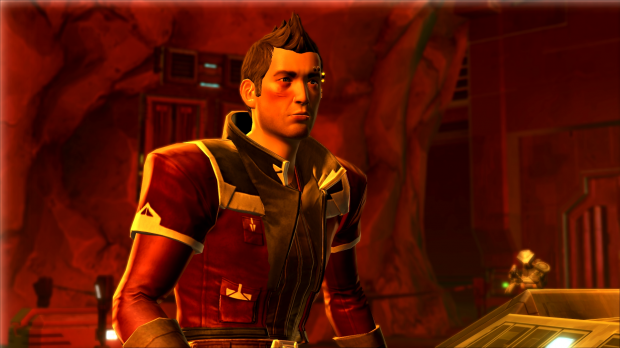 The more I think about it, and the more MMOs I play that try to wedge intricate stories in alongside their gameplay, the more I think that the MMO is simply not a suitable vehicle for delivering individual stories. It's something you can do in single-player games just fine, and because most MMO players started with single-player games, they want to see that same depth of story in their MMOs, but I don't know that it can be done. Even if there is a kickass story, does it feel special knowing that a large number of people you interact with (or maybe just 1/8 of them, in SWTOR) went through pretty much the same thing, that they also confronted Darth McNasty or made out with their companion? Was your story really that individual or unique? People tend to go through the same stories in single-player games, too, of course, but at least when I play Skyrim, I'm the only Dragonborn in my world (at least, I was until the DLC hit).
This isn't to say I want to play in a bland, unimaginative world with no interesting stories to tell. As the IGN piece even brings up, the Star Wars story was about Luke, Han, Leia, and so on, but they happened to intersect with the greater overall rebellion against the Empire. There's still room for your MMO world to be interesting and well-realized, but these days I'm just not buying the premise, which many MMOs still try to push, that my part in it is in any way special or my experiences unique. Maybe it's time for the genre to move on from that, and for gamers to accept that it's an experience you just can't get from an MMO.
---
About the Author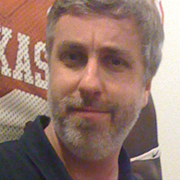 Jason Winter
,
News Editor
Jason Winter is a veteran gaming journalist, he brings a wide range of experience to MMOBomb, including two years with Beckett Media where he served as the editor of the leading gaming magazine Massive Online Gamer. He has also written professionally for several gaming websites.
---
Read Next
💣 Feature |

Love It Or Hate It: Marvel Heroes
Some free-to-play games are more polarizing than others, with some sides taking the stance of "great, totally non-exploitative implementation" and others thinking "total pay-to-win trash." We'd like to see on what side of the ...
By Jason Winter - 8 years ago
You May Enjoy