Daybreak's Rumored New EverQuest And PlanetSide Games? We're Not Buying It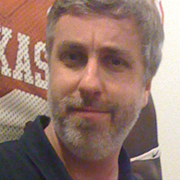 By
Jason Winter
, News Editor

When a company announces layoffs, disgruntled ex-employees usually talk. When there are layoffs combined with all sorts of other questionable behavior by the company, the rumors really fly. And while all that is going on, there's plenty of space for false rumors to make the rounds, as people try to stir up trouble and win Internet Cool Points by being the flashpoint for discussion.
Such is the case with today's "rumor" that Daybreak Game Company is working on a ton of stuff, all purportedly sourced from an employee who was let go last week. The Reddit thread is here, and while the original post is deleted, one commenter has copied it down. It reads: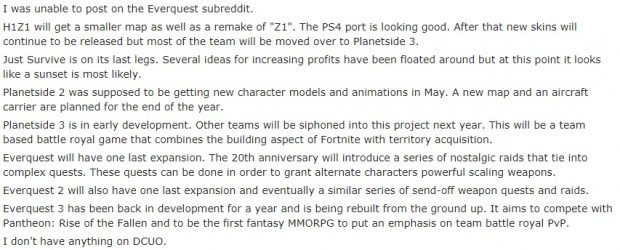 Ooh, exciting! New EverQuest and PlanetSide games! Battle Royale! Games dying left and right! Wow, amazing! Thank you, nameless insider!
Yeah, we're not buying it.
First, there's a denial in the comments by "Maergoth" who claims to be "fairly in the know" and who "didn't sign any NDAs, but you might have if you actually worked for the company." That leads one to believe that Maergoth is one of the actual Daybreak employees who was let go last week and is calling out the original poster as, well, not. Sure, Maergoth could be lying too, but -- and I'll admit, this is just personal opinion -- he/she seems more credible.
Also, we reached out to Daybreak and got the standard official response that the company doesn't respond to rumors and that "we're always looking for ways to innovate and explore opportunities that make sense for our players and our community." Granted, we don't know how much to believe Daybreak's PR after what happened last week, but it's something.
So let's look at the substance of the post. It says, basically, that H1Z1, Just Survive, EverQuest, and EverQuest II are on their last legs. Does it take an "insider" to make those kinds of claims? All four games have hit on rough times, and it wouldn't be a huge surprise to see any of them shut down later this year.
PlanetSide 2 is carrying along well enough, the post says, with new content planned. That jives with what we've heard publicly from the dev team, so it's again nothing an average person wouldn't know.
He has nothing on DC Universe Online. That's strange ... you'd think someone so well connected with every other game the company makes would be able to offer something. Unless, of course, he's just a player of Daybreak's other games and doesn't know enough about DCUO to make any broad predictions ...
That brings up the two biggies: PlanetSide 3 and EverQuest 3, both of which are supposedly in development -- despite the layoffs -- and are supposed to have a battle royale focus, because, hey, the best way to rile up gamers these days is to say a much-loved or highly anticipated game is going to implement a battle royale mode. Oh, and EQ3 "aims to compete with Pantheon: Rise of the Fallen." That's the real belly-buster. Nothing against Pantheon, but it's a niche title designed to appeal to old-school MMO fans -- the kind that SOE/Daybreak long ago stopped trying to lure. EverQuest Next wasn't going to compete with Pantheon or Crowfall or Camelot Unchained. It was going for the larger Elder Scrolls Online/Guild Wars 2/Star Wars: The Old Republic audience, at least, with World of Warcraft no doubt in its (distant) sights.
So yeah, we're calling this myth busted. Which means we'll look that much sillier when "EverQuest Battle Royale" is announced later this year, but we're willing to take that risk.
---
About the Author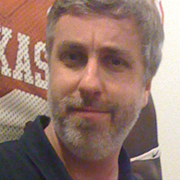 Jason Winter
,
News Editor
Jason Winter is a veteran gaming journalist, he brings a wide range of experience to MMOBomb, including two years with Beckett Media where he served as the editor of the leading gaming magazine Massive Online Gamer. He has also written professionally for several gaming websites.
---
Read Next
You May Enjoy