Mark Kern: Firefall Was Very Different Early And I'd Re-purchase It If It Became Available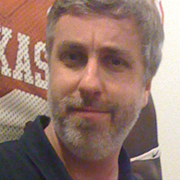 By
Jason Winter
, News Editor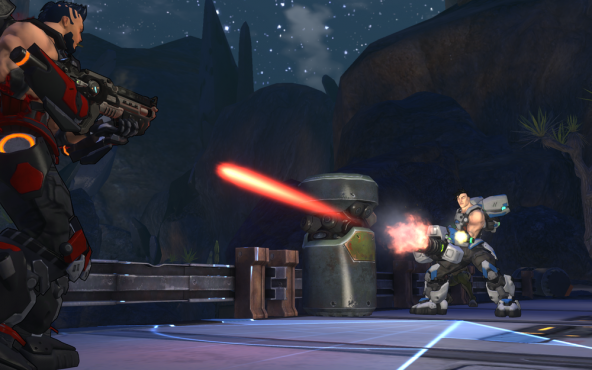 Firefall was originally envisioned as a "WWII MMO game set in a fantasy alternate reality with Hilter [sic] pursuing occult artifacts." Later, when the game switched to a sci-fi title, it was meant to be a combined-arms game, where players could "fly vehicles, drive tanks and fight on the ground."
That's according to Mark Kern, co-founder of Red 5 Studios who was ousted from his position with the company in late 2013, after a series of well-publicized incidents and behind-closed-doors infighting, as alleged by several Red 5 employees. In a lengthy blog post from a week ago, Kern delves into Firefall's WW2 history as a historical game and its take on truly dynamic events.
Instead of having standard MMO zones restricted on leveling and with static quests that happened in the same place all the time, I wanted us to move to what I termed "time based domain" gameplay... Our system let us set up encounters and the server AI could "drop" them anywhere on a map and dynamically find spawn points for everything and even change what enemies you'd fight depending on where the encounter happened and who was fighting.
Changes were already underway by the time Kern was removed from his post; PvP had been scuttled and the game's progression system had been changed multiple times. Kern unsurprisingly blames the game's current state on the changes made after his departure, lamenting it as "pretty much a standard MMO now, instead of the simulated massive war game that I had always wanted to make."
And, never one to miss an opportunity to capitalize on hope -- as evidenced by his co-opting of the Nostralius World of Warcraft drama -- Kern states that he'd love to have the chance to re-acquire Firefall, to "deliver the Firefall that vets deserve."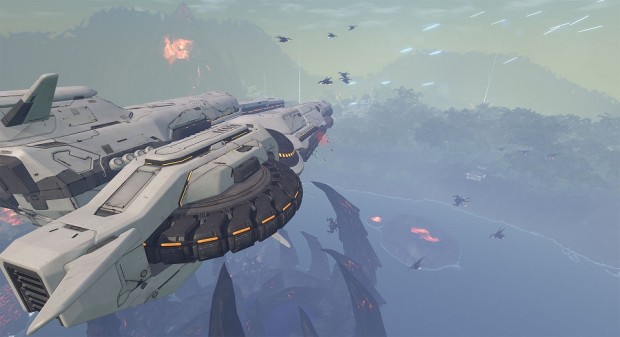 I haven't paid much attention to Firefall in a couple of years, but I do remember the early teasers -- especially as related to that event-based gameplay -- as really piquing my interest. And it's hard to argue that the game has objectively been better since Kern's departure, especially in light of recent events and Kern's own chart showing the game's dropoff.
That said, Kern hardly paints a sympathetic figure. The series of articles that greatly detailed Kern's disastrous managerial style are no longer available, but highlights include him reportedly being out of the office for extended periods of time and then returning with a "new vision" that would destroy months' worth of work. Employees also reportedly needed a "safe word" to inform him to calm down, and you didn't want to be "Marked" -- i.e., viewed as someone who disagreed too much with Kern, which would likely result in your imminent unemployment.
Then there were the millions of dollars wasted on the Firefall bus. And this.
Firefall could have turned out better; even the current team admits that. Perhaps in response to Kern's writings, they posted a brief message on the Firefall site explaining that the game is still in active development and there are plans in place to port the game to the PlayStation 4 and mobile platforms. Maybe things would have been better with Kern still in charge, and maybe they wouldn't have been.
But he had his chance, and he blew it with what can only be described as borderline psychopathy. Years later, it's easy to say that "It would have been better if I'd been there," but that's something that can never be proven. In any case, I doubt the current Red 5 Studios team would exactly welcome his return.
---
About the Author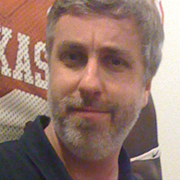 Jason Winter
,
News Editor
Jason Winter is a veteran gaming journalist, he brings a wide range of experience to MMOBomb, including two years with Beckett Media where he served as the editor of the leading gaming magazine Massive Online Gamer. He has also written professionally for several gaming websites.
---
Read Next
You May Enjoy