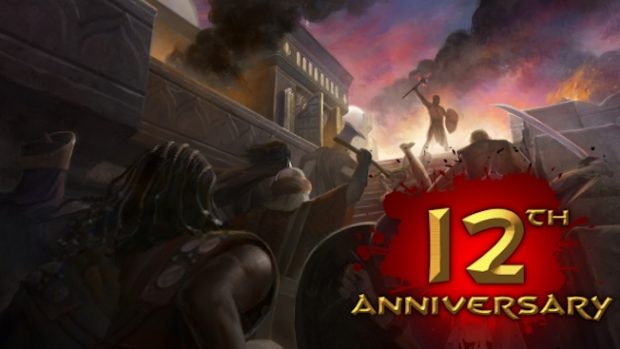 Funcom is celebrating 12 years of Age of Conan with a special, three-week-long anniversary event. During this event, players will have the chance to earn all kinds of rewards by completing challenges — or simply by logging in.
Over the next three weeks, players will get a special login reward for every day they… well… log in. What those daily rewards are has not been specified, with the exception of the Gilded Desert Stallion mount. Upon logging in, players will also recieve an additional daily reward — a Raid Finder chest containing the "Conqueror's Gift" buff. The chest can only be unlocked after completing a Raid Finder or Daily Challenge, however.
Speaking of challenges, players who complete the community challenge by completing waves in Kuthchemes Temple Onslaught, will receive the headpiece for the new Dogs of the Desert vanity set. There's also a personal challenge, The War for Kuthchemes. Players who complete this daily quest will earn the rest of the pieces of the Dogs of the Desert vanity set. At two completions, players will receive boots. At five, they'll get gloves, at 10 they'll be rewarded the skirt, and finally at 20 they'll complete the set with the vest.