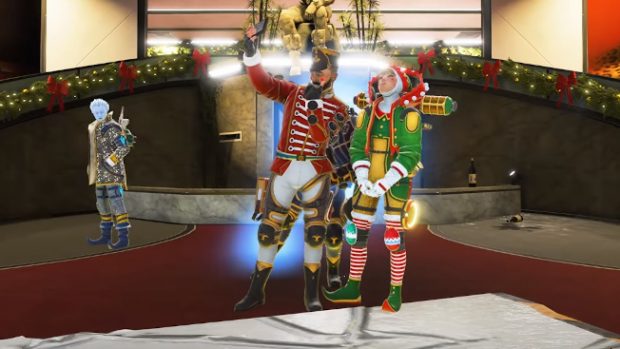 Even Apex Legends' Outlands isn't immune to the festiveness of the holidays, as proven during last night's Game Awards where the game was awarded the Best Multiplayer Game Award. During the event, Apex Legends revealed a special in-game holiday celebration titled Mirage's Holo-Day Bash. Get it? "Holo-Day"? Yeah. You get it.
As the title suggests, Mirage is hosting a party — aboard his boat, the Mirage Voy'age. The boat is decked out for the event and is the focus of a town takeover, although it's not the entirety of the holiday content. There's a special, non-Battle Royale 3v3 mode titled Winter Express. New festive cosmetics have been added, including weapon skins, holiday outfits: reindeer, Santa-ish, something candy-cane looking, and nutcracker — as well as other items.
The holiday content also launches more-or-less in tandem with a double XP weekend that begins today and runs through the 16th. Additional details on both events are available on the Apex Legends site.