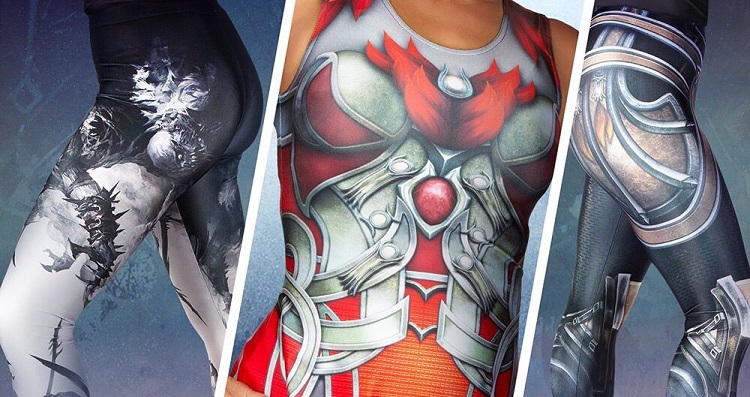 As I've learned about the history of weapons and armor (for articles like this), I've learned that armor designs sometimes derived from the courtly fashion of the day. Usually, this was only for ceremonial armor, since froofy, lacy bits, even if made of metal, don't offer much protection from broadswords, even if they do look totally fabulous.
Soon, you'll be able to go in the other direction — instead of armor that looks like clothes, you'll be able to get clothes that look like armor!
Geek-conscious clothier Wild Bangarang is set to debut a line of items based on Guild Wars 2. You can get leggings with armor designs or just get norn hero Eir Stegalkin on a dress, as well as other items. The nine-piece set will go up for sale on the Wild Bangarang site this Friday. While you're there, you can also shop for clothing based on the DC comics universe, Charmed, Harry Potter, Warhammer, World of Warcraft, and more.
I'll admit, it all seems a little odd to me, and it's not the sort of thing that I would probably wear, even if I was into leggings (or dresses). But then again, we wear stuff with logos and designs on our upper bodies (shirts) all the time, yet rarely decorate our lower bodies (pants) in the same way. So maybe some "armor leggings" aren't such a crazy idea, after all. FWIW, Christmas is just five months away, and I'm always happy to receive gifts …