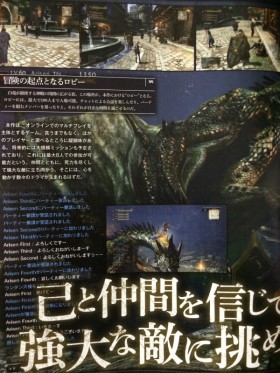 Gematsu is reporting (based on articles in Famitsu) that Capcom has a free-to-play, online version of Dragon's Dogma in the works. The title is currently slated to be released on the Playstation 3, PS4, and the PC and is due to be released some time this year.
Dragon's Dogma Online seems to operate along the lines of the original Phantasy Star Online where parties form in a lobby and then take to the field together in groups of four. If you want to play solo though you can as Capcom has stated that AI NPCs can be used in lieu of actual party members. Combat will play like Dragon's Dogma fans would expect. Big monsters that become enraged, clinging combat, and dramatic battles are all slated to make their appearances.
On the story front, Dragon's Dogma Online features an entirely new story and is separate from its solo playing siblings. The open world portion of the game will be expanded through seasonal updates, and the team briefly thought about making the game subscription but thought free-to-play with microtransactions would lead to more people trying the game.
It's interesting to watch develop as I loved the single player games, but I'll hold back on judgement until we know more. Would you look forward to a Dragon's Dogma Online game? Let me know below!