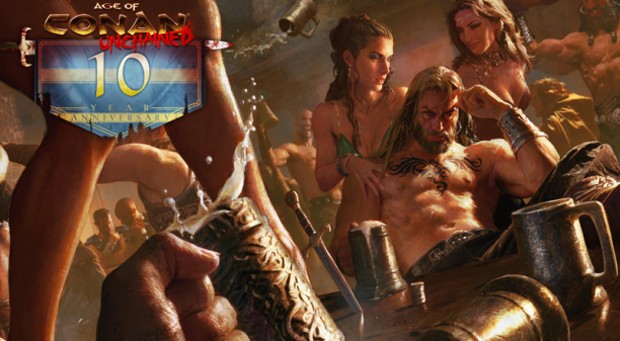 Break out the party hats and those roll out noise maker thingies, it's time to celebrate 10 years of Age of Conan — if you're a fan of the game, that is.
Funcom is definitely up for some celebrating, and they're starting by giving out some sweet rewards, including an armored lion mount. The Golden Lion of Aquilonia is one of several daily login rewards that will be available during the event. Other items include Atlantean Shards, Paragon's Caches, Expertise points, and more.
Players will also be able to get their hands on a new vanity cloak and pet via the Spoils of Victory. The new pet — also a lion — can be used in the Pitmaster's Arena. And… if you'd like another pet to add to your collection, one is available as a reward for participating in the Black Ring Citadel raid.
If you missed previous anniversaries, don't worry. Content from the previous events is making a return. And, if you've been holding off on chest purchases, now might be the time since they're now available at a 30% discount.