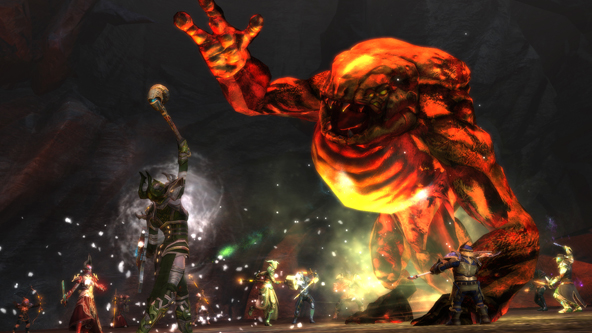 A new update has crawled out of the cracks for MMORPG Rift, harnessing a significant collection of new content and lore along with its emergence. 2.7, or "Binding of Blood" is officially live, and will be leaving a trail of raids, quests, destruction and Hellbugs on the path behind it for the next few days.
"Binding of Blood" brings four new souls, allowing the Warriors and Rogues the ability to heal, Mages the opportunity to tank-one out, and provides Clerics with a little more oomph in their ability to support. This allows for each player to sustain themselves more as an individual unit, and creates an opportunity for party's and solo champions to explore the new update on a more level playing field.
Upgrades to the user interface such as Crafting, Wardobe, Quests and Achievement Tracking have also arrivcd upon 2.7's implementation. A new collection of chapters and quests have been written into the lore of Binding of Blood, elaborating on how these new obtainable souls have come to exist, and where their destiny lies.
Many more features are to be seen in the upcoming days, including some more Tier 3 Raids, a week long "Unicorn Celebration", and a return of the notorious Hellbugs. Summerfest is also in store, giving all those hard working heroes out there a moment to stop a smell the roses on a scavenger hunt or two.
"Binding of Blood" is worth a looksie for any Rift veteran– and any potential rookies looking to learn the ropes can find more info at the official website.