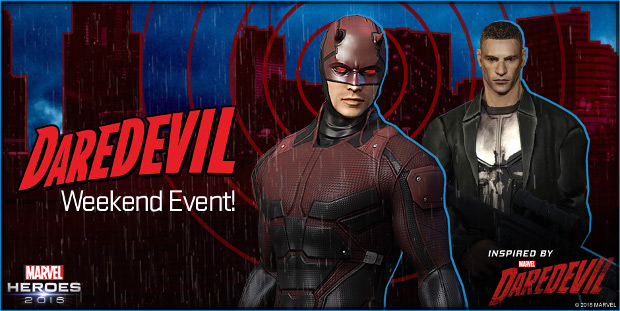 Marvel's Daredevil Season 2 hit Netflix yesterday and, of course, Marvel Heroes is doing something to celebrate. To start with, players who log into the game any time on Saturday March 19 or Sunday March 20 (Pacific time) will receive a free playable Daredevil to add to their roster.
In addition, Gazillion has added new costumes inspired for the TV series for both Daredevil and Punisher. They are also offering Bonus XP for both of them through the week.
If you miss getting the free Daredevil during the weekend, you can still get him and Punisher at a discount during the week. Both Heroes and their costumes are all 25% off.
There is also a new Mission — Orders from the Hand, new achievements, and a new Tournament.
Full details on the Daredevil event are available on the Marvel Heroes 2016 site.