Interview: Wayne Song Talks Swordsman PvP, Bots, and Cash Shop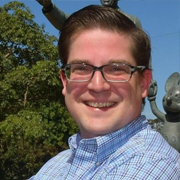 By
Michael Byrne
, Editor in Chief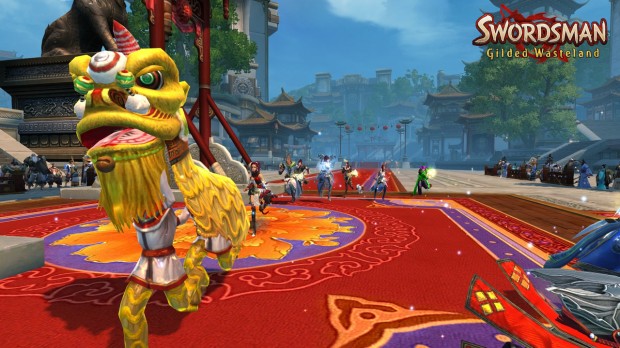 About a month ago we started a 3 part interview with Wayne Song, Swordsman's Associate Product Manager, to catch up on the Gilded Wasteland expansion to the MMORPG. Today we bring you the third and final installment from that interview.
Magicman (MM): Gilded Wasteland adds a few new items to Swordsman's PvP, but before we get to those, can you tell us about PvP in general, like when can players jump into some of these arenas and does it take long to be able to participate?
Wayne Song (WS): When players reach Lv.30, they can enter the first arena, creating a room to invite other players for PK, or joining the existed rooms for challenging with other players. This is one of the most important parts in Swordsman's PvP content. With the progression of player's level, more content about PvP will be revealed, like the Way of Dragon, the newly added cross-server battlegrounds, etc. Some of them may require the team work, so meet more friends in game, and have fun!
MM: The expansion adds the new "Capture the Lion" mode which looks to be similar to other Capture the Flag PvP modes. Tell us a bit about this mode. How is it similar and how does it change things up a bit?
WS: Capture the Lion is a 6v6 arena mode. Players on the Red team and Blue team need to try to seize the gold lion, and take it to the target location, then get 1 point. The one that gets more points in 7 minutes will win. The respawn point for each side has the black lion costume, used to grant the special combat skills. It is indeed inspired by Capture the Flag modes, but we wanted to add our own flavor to it.
MM: Cross Server battlegrounds has been something I've seen discussed on the forums for quite some time and they finally made it into the game with Gilded Wasteland. How have they changed and improved the PvP experience?
WS: We believe it does, as it creates a more unified multiplayer experience. The actual gameplay keeps things fresh and interesting, and the key for winning is not about how many times you knock down the enemy, but how to take the gold lion to your team base safely. Have fun with it!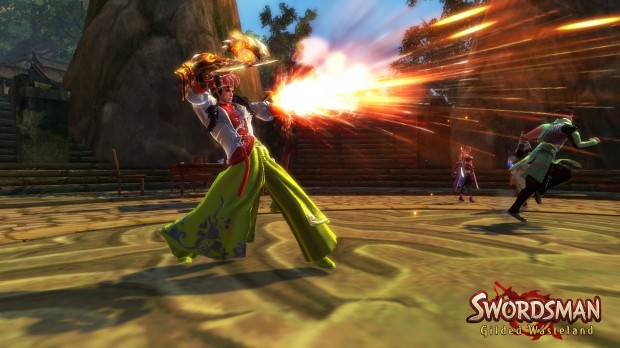 MM: How heavily does the game's cash shop impact PvP? Some players may not be pleased with the ability to buy power (items like Gem Combination Charms and others). While these items may also be available in game without a cash purchase, does having them in the cash shop at all create a "P2W" (pay to win) perception?
WS: We like to give players options. For players interested in competitive gameplay we have normalized arenas. For players interested in progression PvP we have open world PK, PvP dungeons, and Arenas where your upgraded gear and special skills can swing the battle in your favor. We mainly see complaints from open world PK due to the clash of natures between PvE and PvP players. We are working to address this by giving pure PvE players an alternate progression pathway by boosting rewards from instances. We have the ability for players to trade Gold obtained in the game for our cash currency. This helps pure free players earn anything in our cash shop. As the game gets older and gold becomes more and more important free players will get more value for their time.
MM: While it may not impact PvP as much, how has Swordsman addressed the "bot" problem as the game as continued to develop over time?
WS: Bots are always a major issue in free to play games. We have personnel that actively investigate their trade rings and ban them in mass using our logs and special tools. This is why you can see them spamming like crazy one week and not at all the next. We have more plans in the future to guarantee that the players will always get more value from directly supporting the game so they can never be tempted to buy gold from real-money trades.
MM: Are other new PvP modes/elements planned for the future? Care to give us a hint at what may be coming?
WS: PvP is an important part for Swordsman, we're always do our best to optimize the PvP experience, and creation for new content about PvP is in progress. Stay tuned, some of them will be released in 2015!
Our thanks to Wayne for giving up the updates.
---
About the Author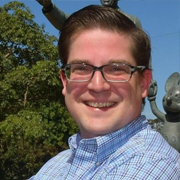 Michael Byrne
,
Editor in Chief
Mike "Magicman" Byrne has been a part of the MMOBomb family for years and serves as the site's current Editor-in-Chief. His love for MMOs and gaming in general has led him to covering games for numerous gaming websites including Gamebreaker TV and XIV Nation where he proudly displays his fanboy flag for FFXIV:ARR.
---
Read Next
💣 Feature |

Toxicity Isn't Just An Issue For MOBAs
Maybe we've been too hard on MOBAs. Sure, they're full of toxic players who insist you play the game perfectly or else they'll unleash a stream of profanities in your general direction.
By Jason Winter - 8 years ago
You May Enjoy