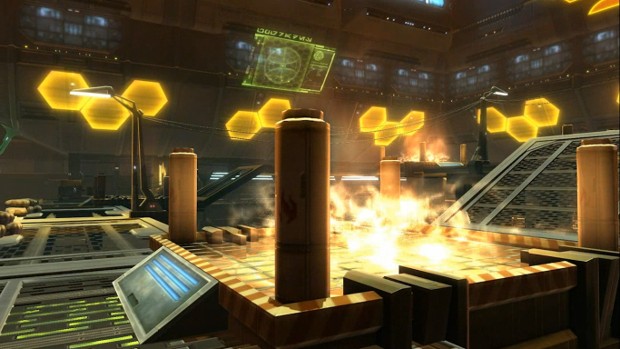 Today, Star Wars: The Old Republic Community Manager Eric Musco dropped more information on planned changes to warzones — this time covering Huttball and Arenas.
To improve Huttball, the development team is taking a look at better balancing the game so that classes with movement abilities don't have an advantage. The changes include having players carrying the Huttball during play being hindered so that they can not use abilities like Force Charge or Scamper.
In addition, players will be unable to catch the Huttball while stunned, and players will earn more attacker points when catching a pass from a teammate.
As for arenas, the team is currently working on ways to prevent exploiting while punishing those who attempt to exploit. Some of the plans currently on the table are:
Characters who hack their way into places they shouldn't be, such as outside the arena or in the ground, will die.
Currently, acid causes characters to take 10% of their max health in damage every second, prevents stealth and all healing.
Acid will now work as follows:

Characters will take 1% of their max health in damage every second and reduce all healing done/received by 2% per stack.
Characters affected by acid will begin with one stack and gain one stack per second.
Acid will still inhibit stealth.
Players can weigh in on the planned changes on the game's forums.