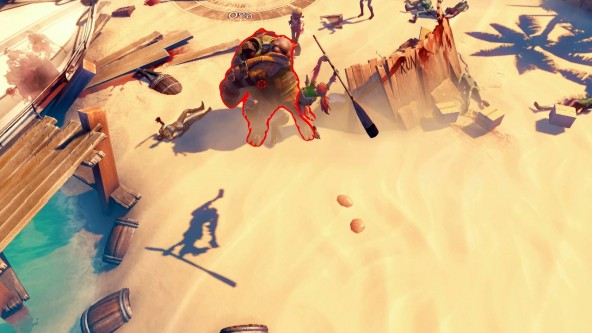 When Deep Silver announced a zombified MOBA (or ZOMBA as they like to call it) based on the Dead Island series, the idea of a first person MOBA no doubt intrigued many players. Afterall, Deep Silver promised players that Epidemic would carry over many of the recognizable traits from the original series. So when I heard Deep Silver had released the first set of screenshots for Dead Island: Epidemic I was excited! However, as I laid my eyes upon the images, that excitement quickly turn into quite the opposite.
Dead Island: Epidemic is not first-person. Potentially the most disappointing revelation for a game that may actually have some redeeming qualities. Epidemic will in fact employ a camera scheme more comparable to Bloodline Champions than League of Legends.
Fitting since Techland will not be returning to the helm, but will instead be passing the torch onto Stunlock Studios, the developers behind Bloodline Champions. Similarly, Epidemic will share more in common mechanically with Bloodline Champions than League of Legends. Notably, players will use their left and right mouse buttons to perform light and heavy attacks.

Three teams of four will battle it out over various modes, one of which is Capture the Flag. The three teams will battle it out over control points while also having to deal with zombie packs who spawn once someone wanders too close. During these waves of zombies players may find it advantageous to team up with the enemy groups in order to better handle the incoming waves and zombie bosses. Techland says that unlike other MOBAs, the gameplay "isn't focused on attacking the other teams' base" but instead on "tackling dynamic gameplay objectives".

Players will be able to choose from at least six classes and will be able to craft their own weapons, trinkets and items. Just like in the original Dead Island, cnce crafted the weapons can be upgraded with other parts to form unique weapons which suit the player's current needs.
Deep Silver has yet to divulge any release date or beta news.