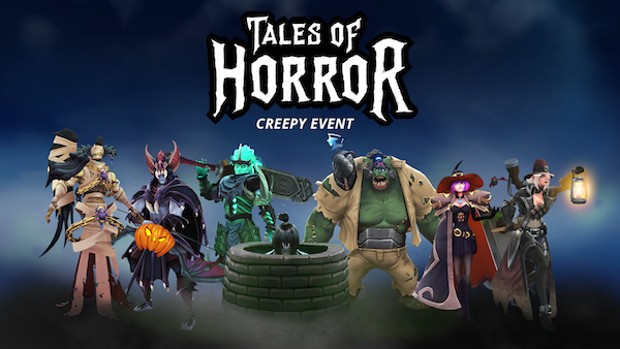 Witches, mummies, and girls in wells, oh my.
Once again, the creepy things that go bump in the night (or cackle, or growl, or whatever) have returned to Battlerite. Patch 1.5.1 went live today, bringing with it the Tales of Horror event. Lasting until April 25, the event will feature new weapons, outfits, and chests… all with a creepy theme.
Players will be able to purchase Creepy Chests using in-game currency. These chests guarantee 1 non-duplicate Epic or Legendary Creepy item with duplicate items being given out only once all the unique items are already owned. Chests are available in bundles for the following amounts:
1 Creepy Chest for 250 Gems
5 Creepy Chests and 1 bonus Creepy Chest for 1250 Gems
20 Creepy Chests and 7 bonus Creepy Chests for 5000 Gems
The update is also introducing a completely new kind of chest, titled the Spooky Chest. This chest replaces the Silver Chest while the event is running, in both account leveling and in the shop. They guarantee at least 1 Rare Drop and 1 random Creepy Item and cost 400 Battle Coins each.
New items — outfits, weapons, and poses — are available in these chests. They include:
3 new Legendary Creepy Outfits (Jumong, Poloma, and Varesh)
6 new Epic Creepy Weapons (Alysia, Destiny, Jamila, Thorn, Ulric, and Zander)
7 new Rare Creepy Poses (Jade, Jumong, Pearl, Poloma, Raigon, Rook, and Varesh)
In addition to the Tales of Horror Event, Stunlock Studios also announced a champion bundle for Twitch Prime subscribers. Beginning April 17, Twitch Prime users will be able to acquire the Champion of Enza Bundle.