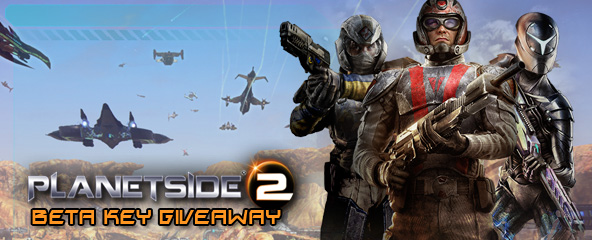 MMOBomb.com and Sony Online Entertainment are pleased to present our users with a invite to PlanetSide 2 closed beta test (US Only). We have more 10 Beta Keys to offer, they're quite valuable and limited at the moment. So if you want to get one of these super rare beta keys just follow the instructions below.
Planetside 2 is free to play open world persistent MMOFPS published by Sony Entertainment Online. In Planetside 2 players fight in epic large scale battles across a variety of landscapes during the day and night.
0 KEYS LEFT!
How to get your Key:
So what you need to get a key? Easy just follow the instructions.
STEP 1. You just need to follow us via Facebook, also don´t forget to Share and Like our special PlanetSide 2 giveaway.
STEP 2. Send an email to giveaway@mmobomb.com with the subject line "I am a MMOBomb Facebook Fan and I want to play PlanetSide 2". In the email please include your Facebook username.
We'll select the 10 lucky MMOBombers during the next week. We'll be picking and notifying the winners via email so please check your mailbox.
PlanetSide 2 Gameplay Preview:
Lucky Facebook Winners:
1 – Taneli Karinkanta
2 – starman1973
3 – Ashton Arrows
4 – Cudnohufsky
5 – Jeremiah Then
6 – Adam Felkner
7 – Blake E Morris
8 – adjective13
9 – redsandstorm
10 – Matthew Doyon