Round 2 of the Ultimate F2P Tournament: A By-the-Numbers Recap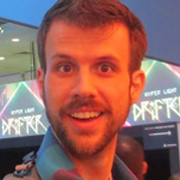 By
Michael Dunaway
, News Editor

And then there were 16.
Only one-quarter of the games that started on this journey still remain, so we thought we'd reflect on some of the stats we've seen in the first two rounds with a few "best of" lists:
Most votes through two rounds:
SMITE – 18,965
Mabinogi – 12,648
Warframe – 7571+
Team Fortress 2 – 7,022
Aura Kingdom – 6,911 (first-round voting only!)
On the flip side, the lowest vote total by a round of 16 participant goes to DC Universe Online, with 1,282.
Largest total margin of victory (percentage points):
Path of Exile – 166-34
PlanetSide 2 – 151-49
Team Fortress 2 – 148-52
Star Wars: The Old Republic – 144-56
TERA – 142-58
Game types remaining:
RPG – 9
FPS – 4
MOBA – 3
Total value of seeds:
If all highest seeds were remaining – 40
If all lowest seeds were remaining – 232
Actual – 103
Also, there's been some, uh, "heated discussion" regarding cheating in the polls. To wit, some players have taken to using methods that might be considered underhanded by their opponents – some of whom have found out about them and promoted the same tactics to their community. While I won't go into the specifics, we can confirm that, yes, it's possible for one person to vote multiple times. We've been aware of the possibility since the start of the polls and, in all honesty, there's not much we can do to cure the disease that wouldn't be worse than the symptoms.
Suppose we implemented a form of strict IP blocking, for instance, so that no person could vote twice from the same computer, or even from the same building. You could still vote multiple times by voting from home, from work, from school, from a library, from your phone, from your laptop... It's easy to see how a person could vote several times to avoid such restrictions, and it could restrict legitimate voting, such as from two people living in the same household or voting from the same public computer or college campus.
Could we implement a kind of registration system to prevent people from voting more than once? Maybe, but you don't want to have to sign up/sign in every time you want to vote, and it's easy enough for people to put in fake names or e-mails (or create multiple free e-mail accounts). And even if we did have all these safeguards and some absolutely unquestionable, multi-million-dollar foolproof security system in place, some people would still cry "Hackers!" when their favorite game lost.
All that being said, we have found evidence of one user being able to cast more than a handful of votes for his game. According to what he said and the time frame he gives, he should have added a few hundred votes to his game's total, but, seeing as how his game won by several thousand votes, we've decided not to take action. However, we are implementing stricter anti-cheat controls for the final rounds of the poll. We didn't want to do this because of the warning that comes with the polling system that some legitimate votes might not be counted, but we've run a few tests and are crossing our fingers that this won't gum up the works too badly.
We don't believe that every upset or every loss is the result of cheaters, though. What we've seen in the case of games getting unusually high vote totals is plenty of evidence of passionate gamers and game companies promoting the contest via forums and social media (occasionally with bribes) to "get out the vote," and that we have no problem with.
Also keep in mind that, if your game got beaten in the second round by someone who "cheated," your game won its first round match-up – so fans of the game it beat could, without any hard evidence, accuse you of the same thing.
Finally, while we love this tournament – and a lot of you do, too, by the looks of it – it's not a life-or-death struggle. There isn't a large cash sum on the line, and we're not voting for anything like the president of the United States, or even something really important like the winner of American Idol. It's light and fun, and if your game loses... well, it'll be in good company. 64 games started this tournament, and 63 of them will be eliminated. Celebrate your victories and don't dwell too long on your defeats.
Vote in Round 3 here!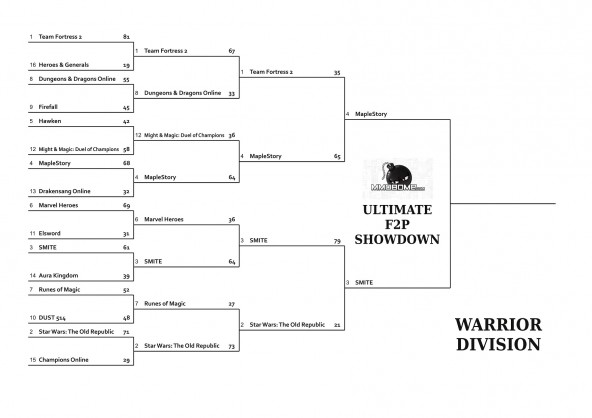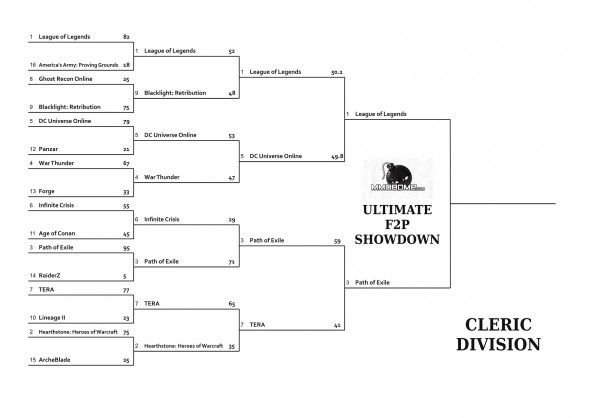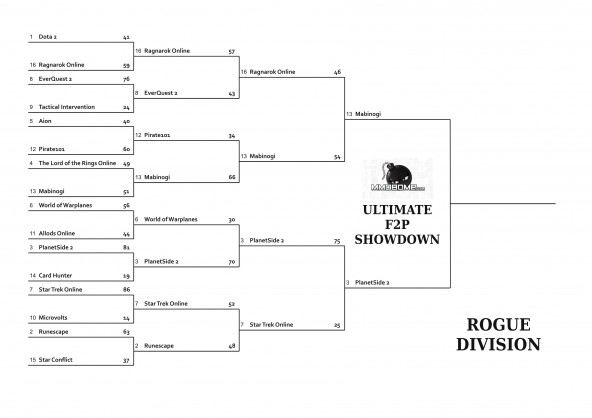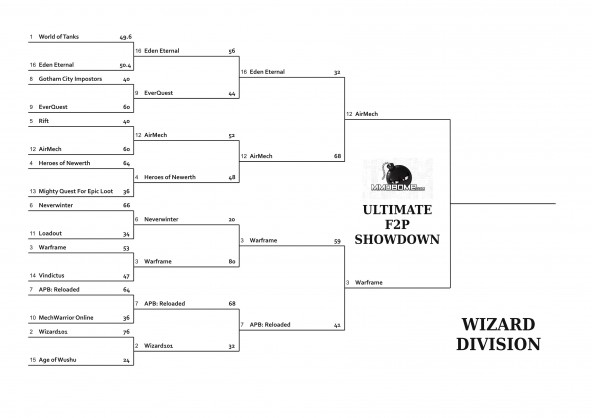 The winners of each division will face off to determine, once and for all, what is the best F2P game – or at least which game has the most rabid fans!
Schedule:
M 2/24: Warrior Division, Round 1
W 2/26: Cleric Division, Round 1
F 2/28: Rogue Division, Round 1
M 3/3: Wizard Division, Round 1
W 3/5: Warrior Division, Round 2
F 3/7: Cleric Division, Round 2
M 3/10: Rogue Division, Round 2
W 3/12: Wizard Division, Round 2
F 3/14: Warrior Division, Semi-Finals
M 3/17: Cleric Division, Semi-Finals
W 3/19: Rogue Division, Semi-Finals
F 3/21: Wizard Division, Semi-Finals
M 3/24: Warrior & Cleric Divisions, Finals
W 3/26: Rogue & Wizard Divisions, Finals
F 3/28: Warrior vs. Cleric Division winners, Rogue vs. Wizard Division winners
M 3/31: The Final Match-up!
Note: The schedule for opening new polls in the semi-final rounds and beyond has been altered slightly, to speed up the overall pace of the tournament. All polls will remain open for two days (three on weekends) except for the final match-up. We apologize for the confusion.
Vote early, vote often, but whatever you do, just vote!
---
About the Author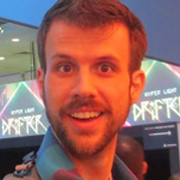 Michael Dunaway
,
News Editor
Michael Dunaway has been part of the MMOBomb team for years and has covered practically every major Free-to-Play MMO title since 2009.
---
Read Next
You May Enjoy