The Force Is Sorta OK In This One: SWTOR Bucks The Recent Trend Of F2P Failure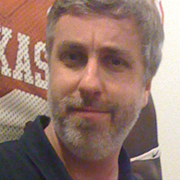 By
Jason Winter
, News Editor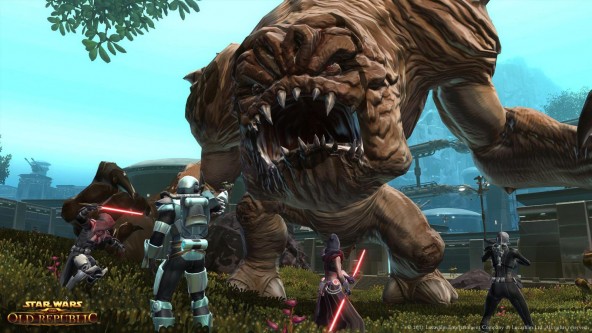 Star Wars: The Old Republic seems to be doing well since its switch to a free-to-play model – very well, according to BioWare. But do we have anything besides the company's word to go by?
As we alluded to in last week's F2P Cast, BioWare's claims of doubling their revenue may stem from the game's, shall we say, less-than-friendly free-player restrictions. While I'd imagine that players who do stick around are spending more per person than in most F2P games, the data does seem to indicate a significant boost in the overall player base.
A free-to-play switch is usually like a "second launch." And we all know how first launches tend to go in the MMORPG world: tons of initial excitement, followed by a rapid drop-off and either a stabilization or a continued plunge, often into irrelevance. While we can't track player numbers explicitly, we can do the next best thing and look at user activity on the game's website, which tends to be a reasonable analog to a game's performance.
Here's the chart from Alexa.com that shows activity on swtor.com over the past six months: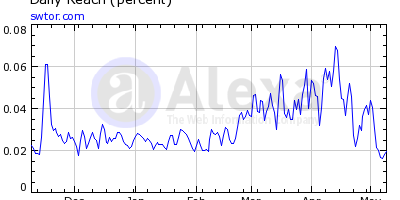 The spike at the far left of the chart dates back to the F2P switch. There's the usual drop-off right after, but then take a look at what happens. The numbers stay rather steady and actually see a notable build-up starting in late February, with the only negative action having occurred very recently.
So maybe most people didn't immediately log in, see how much the F2P implementation sucked, and then immediately logged out. One other possibility is that, even with that large influx right around the F2P switch, maybe people trickled in over the next five months or so, trying and abandoning the game just as quickly – or actually sticking with it.
In any case, the game has been considerably higher over these past few months than it was prior to the F2P transition – a generally good sign.
Take a look at the charts for a couple of other MMO titles that went free-to-play. First TERA (technically www.enmasse.com, as the main TERA site is http://tera.enmasse.com/):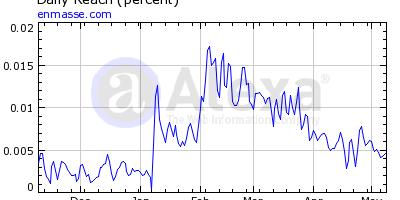 That January jump is from F2P. It's followed by another spike in February, but the game's been in constant decline since then.
Now, The Secret World, which technically isn't free-to-play, but which eliminated sub fees in December: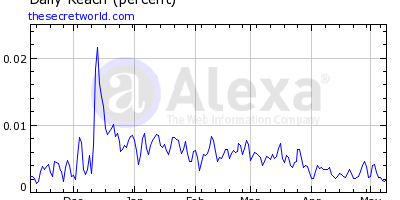 That fits the standard model of how we expect these things to go: big jump right at the transition, followed by steady decline.
For City of Heroes, we have to use a larger scale: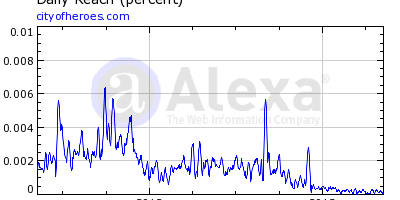 COH went F2P in September of 2011, which corresponds to the spikes on the chart. There's another spike in November/December, but by the time 2012 rolls around, the game appears to be back down below even what it was prior to the announcement. Other spikes on the chart correspond to the F2P announcement (June 2011), the shutdown announcement (August 2012), and the actual shutdown (November 2012).
Finally, take a look at DC Universe Online, which has been trumpeted by Sony Online Entertainment as a successful title since going free-to-play: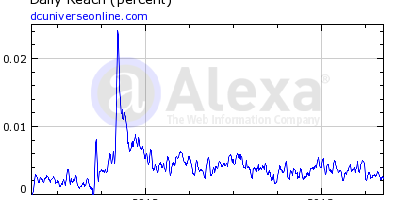 That's not too bad; the game's stayed fairly steady in the period starting about two months after its F2P switch in late 2011.
Again, none of these charts are hard-and-fast indicators of how many players are in a game, but in the absence of any other solid information – which can generally only be provided by a developer, no matter how much we regular players might think we know – they're as good an indicator of a game's health as we're likely to get.
Going by this data, though, none of the other titles we looked at have performed as well as The Old Republic has, growing its traffic numbers for nearly five months following its F2P transition (after the initial, unavoidable drop-off). SWTOR might take years to make good on its initial investment, but at least for the moment, it seems to be doing relatively well, its recent dip notwithstanding. Will that be the new trend, and will the game decline over the next few months? We'll just have to wait and find out.
---
About the Author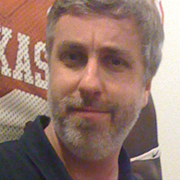 Jason Winter
,
News Editor
Jason Winter is a veteran gaming journalist, he brings a wide range of experience to MMOBomb, including two years with Beckett Media where he served as the editor of the leading gaming magazine Massive Online Gamer. He has also written professionally for several gaming websites.
---
Read Next
You May Enjoy