A couple of months ago, I looked at how various MMOs stacked up against each other, in terms of how much traffic their websites got – a reasonable enough way to determine general activity and populariy. Today, I'm again going to the charts, courtesy of Alexa, to see how the top free-to-play MMOs are doing.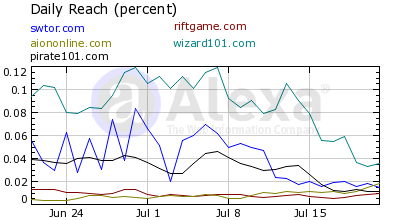 The general short-term trend: not so good. Nearly everybody's down over the past few weeks, which I'd attribute mostly to "Hey, it's summer, let's go outside," which I somewhat sarcastically believe proves that there are very few MMO players in Texas or Arizona, where "outside" means "no AC."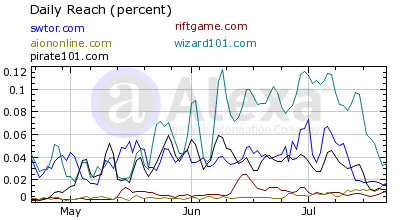 Taking a look at the longer view gives you a better idea of the reach of these games and some of their peaks and valleys, which I'll go into individually:
Wizard101
Don't underestimate KingsIsle Entertainment's kid-friendly juggernaut. With over 30 million registered players and a legion of devoted fans, it's probably the biggest Free MMO in North America.
If it's true that the kids are finally being pushed out of the house in July, it's also likely that, immediately after school obligations ended in late May/early June, they spent more time playing video games and vaulting the game's stats into orbit.
Star Wars: The Old Republic
SWTOR keeps chugging along, or at least it did until its recent dip. For a game that many people – myself included – wrote off after its tumultuous first year, it's done fairly well since its F2P switch... at least as compared to games that cost a fraction to make. Whether it ever recoups BioWare's and EA's investment is a question that will linger for years, but at least it's not a total embarrassment any more.
Pirate101
KingsIsle's second ship is sailing along nicely, even being on par with its bigger cousin in May. Two new worlds were added to the game on May 24, and their pre-release hype probably helps explain the slight surge. Is its recent dip part of the overall "summer blues"? Or is it sinking back to its pre-update levels?
Rift
It's easy to pick out both peaks in Rift's line from when F2P was announced (early May) and when it went into effect (June 12). And while it may look like the move hasn't had much effect, if you look closely, you can see that Rift is still doing about twice as well as before it went F2P. That's typical for an MMO in the first couple months after making the F2P switch.
Aion
Aion continues to chug along, and is just about the only game to experience a rise in its traffic during the month of July. All the 4.5 info coming out should only help push it up higher.
But what about...?
These are, as best as I could think of, the top five free-to-play MMOs, according to the Alexa rankings. Here are four other well-known titles, compared to Rift: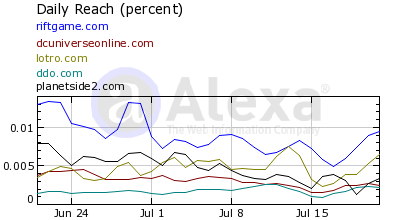 As for Neverwinter, Star Trek Online, and other Perfect World games, I can't track them using Alexa. Since their domains are in the form xxx.perfectworld.com, Alexa can only give me the information for perfectworld.com and not per game subdomain. If I had to guess, I'd say NW would be in the top five, at least in the months following its "release," though whether it will stay there is anyone's guess, and STO would probably be hanging out with the games in the chart directly above.
I'd bring up RaiderZ, but that might just enrage our EU fans...
---
About the Author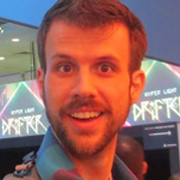 Michael Dunaway
,
News Editor
Michael Dunaway has been part of the MMOBomb team for years and has covered practically every major Free-to-Play MMO title since 2009.
---
Read Next
You May Enjoy