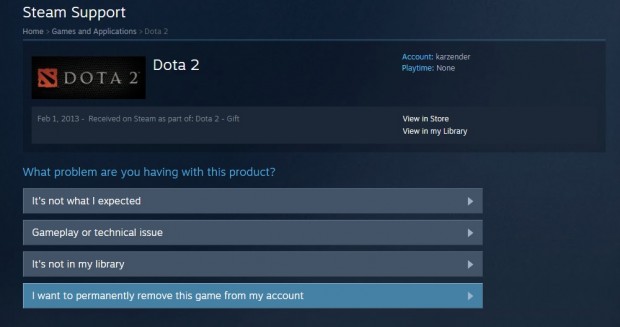 So there's that free-to-play game you downloaded on Steam, played for a few months and… well, that was back in 2013. You really don't plan on ever playing it again, but there it is, taking up real estate in your Games library, and there's nothing you can do about it. You can uninstall it, but it still lingers like a ghost, waiting to be re-installed.
No more! You can now quickly and easily delete any Steam game — free-to-play or not — from your library permanently. Just go to Help, then Steam Support, then Games, Software, etc. to find the title you want to remove. Select the game and then "I want to permanently remove this game from my account." And poof! It's gone.
I specifically call this to attention for free-to-play games because, if you have a change of heart and want to go back, there's nothing lost. I tried deleting a paid game that was a joke gift a few years back that I really didn't want any more, and it appeared to be completely gone; if I wanted to pick it up again, I'd have to re-purchase it. So be careful what you remove.
(Hat tip to PCGamer for the tip!)