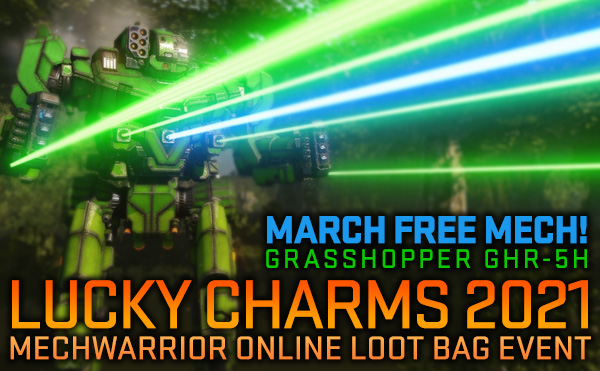 MechWarrior Online wants players to get lucky this St. Patrick's Day season, with its special March mech being the "magically ambitious" Grasshopper 5H. You can get the Grasshopper by accumulating 200 Lucky Charms Loot Bags, which can be earned via a variety of different challenges that come in two phases. Phase 1 is active now, and Phase 2 kicks off on March 18. Both phases, and the promotion itself, end on April 6.
The complete list of challenges and the incremental rewards (for 50, 100, 150, 200, and 300 Loot Bags) can be found here. You can redeem loot bags for prizes by logging into your account via the links on this page. Good, er, luck!
In the meantime, Piranha Games is looking to recover from its stroke of bad luck, following the fire at its EU data center earlier this week. An update on Twitter indicated that the team is "setting up new dedicated servers for the EU Region" and hopes to have them up and running by the end of Thursday.
Update on #MWO EU Game Servers: We have secured and are in the process of setting up new dedicated servers for the EU Region, we are currently targeting tomorrow EOD to have them back up and running. 1/2

— MechWarrior Online (@MechWarriorF2P) March 10, 2021