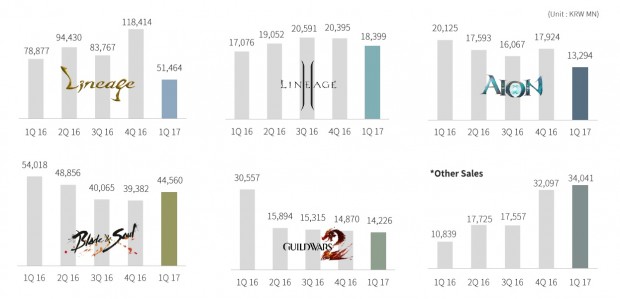 NCSoft had a banner quarter at the end of last year. Its total sales were among the highest ever recorded, fueled in large part by the biggest quarter ever from Lineage.
Things were bound to return to normal, so they did — and then some, for NCSoft's most profitable brand.
Lineage followed up its best quarter ever with its worst quarter in three years, dropping more than half its sales, from 118.4 billion Korean won to 51.5 bKRW. That is, according to the report, "due to the early sales recognition in 4Q and weaker traffic from anticipated Lineage M demand." Lineage M is a mobile RPG based on the PC title that's still in development.
Three of the other named titles in the financial report — Lineage 2, Aion, and Guild Wars 2 — also experienced small downturns in sales, while Blade & Soul had a nice uptick, from 39.4 bKRW to 44.6 bKRW. Overall, the quarter's sales were about in line with what we've saw throughout 2016, discounting Q4: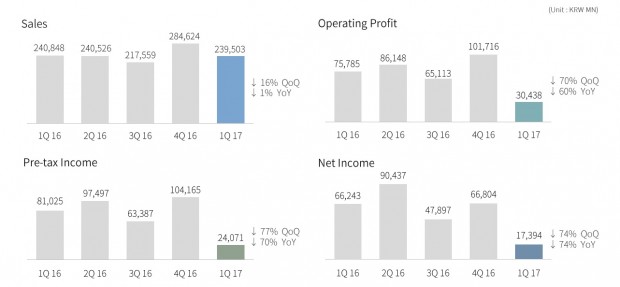 Strong royalty payments were the key this month, accounting for over 1/4 of NCSoft's total sales. They were driven by Netmarble's Lineage 2 Revolution, which launched on mobile devices in Korea in December and apparently was the highest grossing mobile title in the world in February. Yes, even more than Pokémon Go or anything with a Kardashian, Upton, or Schwarzeneggar in it. It's little surprise, then, that the game will be coming to other territories as soon as Netmarble can manage.
You can get the full financial report on the NCSoft Investors Relations page.