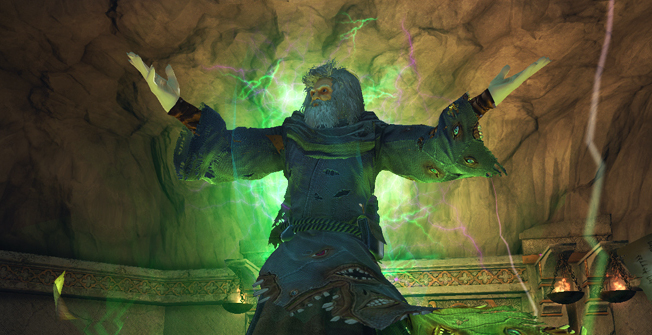 The Neverwinter team has rolled out yet another developer blog offering even more insight into the upcoming Undermountain update. Sure, we all know about what the Undermountain will look like and what kinds of dangers exist. But who's responsible for this crazy place?
Well, today we find that out. The latest dev blog takes a look at the creation of the lair's master, an ancient mage gone mad named Halaster Blackcloak. The magic, monster, treasures, and traps players will encounter… yeah, they have this guy to thank for it.
The post doesn't delve too much into Blackcloak's history. (Our guess would be that if you want that you either need to play the update when it comes out or hit up some of those Dungeons & Dragons books.) What it does detail is how Blackcloak was created for the game — starting with his robe. The post offers a look at the animation rig for the character, as well as some of the model adjustments they went through to get his creepy look.
If you're interested in game development — particularly character creation and animation — I suggest checking out the post. It's a pretty cool behind the scenes look.