Path Of Exile Live Stream Dishes Up All The Sweet Details On The Forbidden Sanctum Expansion
Explore an old Templar enclave in the latest roguelike league.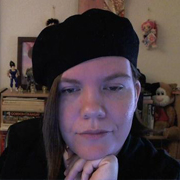 By
QuintLyn Bowers
, News Editor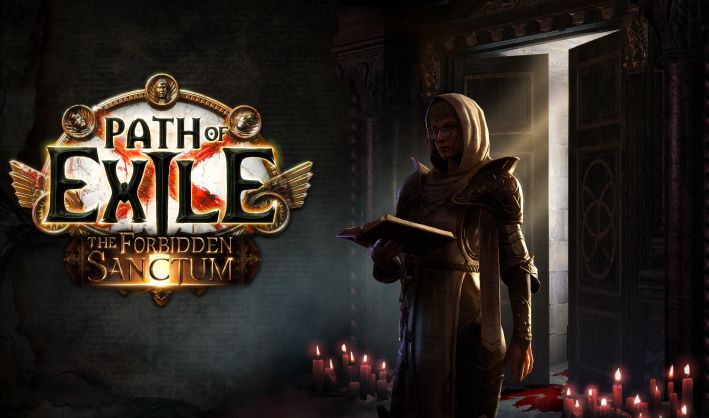 Today, Grinding Gear Games offered Path of Exile players a look at the game's next league, The Forbidden Sanctum. This new expansion offers players a new way to challenge themselves, introducing a roguelike dungeon to the game. Like most roguelikes, this isn't something that's intended to be completed in one go. Players are going to have to work at it.
A lot of The Forbidden Sanctum's gameplay is based on choice. Players will go through one room at a time as they explore Wraeclast and the Atlas. Each map offers players a choice of rooms to explore. The Sanctum map will allow players to see a few rooms ahead so they won't simply be making blind decisions. But, simply plotting out a path won't be enough to get a player through. Successfully making it through is going to require a lot of determination and a lot of practice. The good news is that as players get a little further in each time, they'll also unlock items that will help them along the way, so it won't be like banging their heads against a wall.
The Forbidden Sanctum introduces a new resource known as "Resolve". Resolve is a finite resource that can diminish as players face different threats. If a play runs out, the run ends. Players will only be able to track it while in the Sanctum as the bar won't show up out in the world. In addition, while a player's health will regenerate when they leave the Sanctum, Resolve will not, so while players can leave a run and return to it later, their Resolve will remain where they left it. The benefit of this is twofold. First, it aids in tracking progress in a Sanctum run. Second, if a player is struggling, they can be ejected without having to die and avoid XP loss and hardcore death.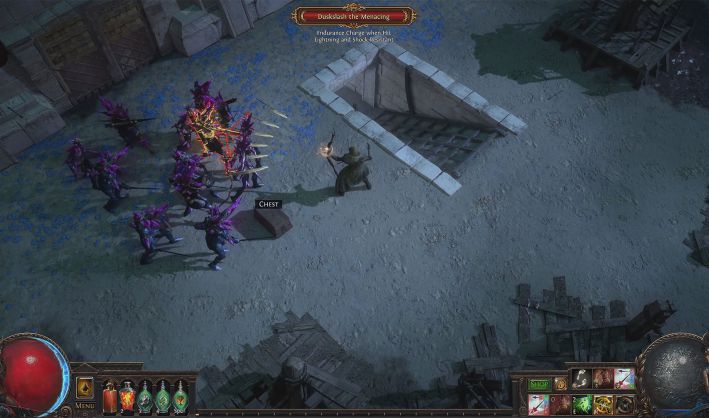 To maintain their Resolve, players will need to be careful about the choices they make while doing a Sanctum run. Each room has different challenges. Some will cause players to gain afflictions that make their runs difficult and reduce Resolve recovery. The more afflictions a player picks up, the more difficult their run becomes.
It's not all bad, however. Rooms can also offer boons. These make things a bit easier and come in two flavors, minor and major. Minor boons can do things like slow down monsters or give players a special shield. Major boons are rare and offer bigger help. They can do things like stop players from receiving minor afflictions or recover a large chunk of the player's Resolve. Speaking of which, some rooms will contain a fountain that can be sued to restore a bit of lost Resolve. Although, some of those fountains will have a cost, being afflicted as they are.
Of course, this wouldn't be Path of Exile without loot. Not every room offers treasure, but some do. Those contain chests filled with a gold coin used by the Templars known as Aureus. They can be traded to a merchant that will sometimes appear in rooms in exchange for boons. The boons vary by location, so keep that in mind. These coins are also dropped from monsters.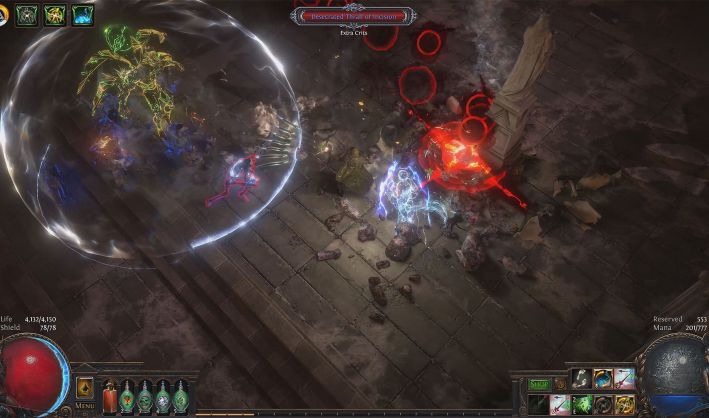 And yes, there are regular Path of Exile currency items as well. The trick is that when the Sanctum offers players currency, they'll have to make some choices. There's the option to take what's available right now. Or, players can elect to try for a bigger haul – if they make it through a run. Note the "if". If a player fails to make it through and defeat the boss, they won't get their reward, so it's a matter of deciding if you want the smaller guaranteed thing or the bigger thing that you could still lose in the end. Choose wisely.
As is always the case with Path of Exile expansions, players can expect more than just a new league. This update will also include end-game updates intended to prepare things for the eventual release of Path of Exile 2. These will allow players to customize their end-game experience. In this update, the Atlas tree is getting love, as is the Eldritch Altar. The update also introduces some new features including new Atlas memories, new skills, and new unique items. The full list can be seen in the video below.
---
About the Author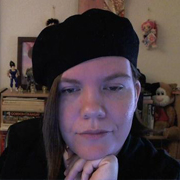 QuintLyn Bowers
,
News Editor
QuintLyn is a long-time lover of all things video game related will happily talk about them to anyone that will listen. She began writing about games for various gaming sites a little over ten years ago and has taken on various roles in the games community.
---
Read Next
You May Enjoy