Preview: Dodge Lightning And Solve The Mystery Of PlanetSide 2's Shattered Warpgate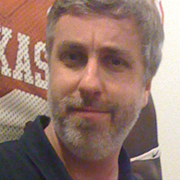 By
Jason Winter
, News Editor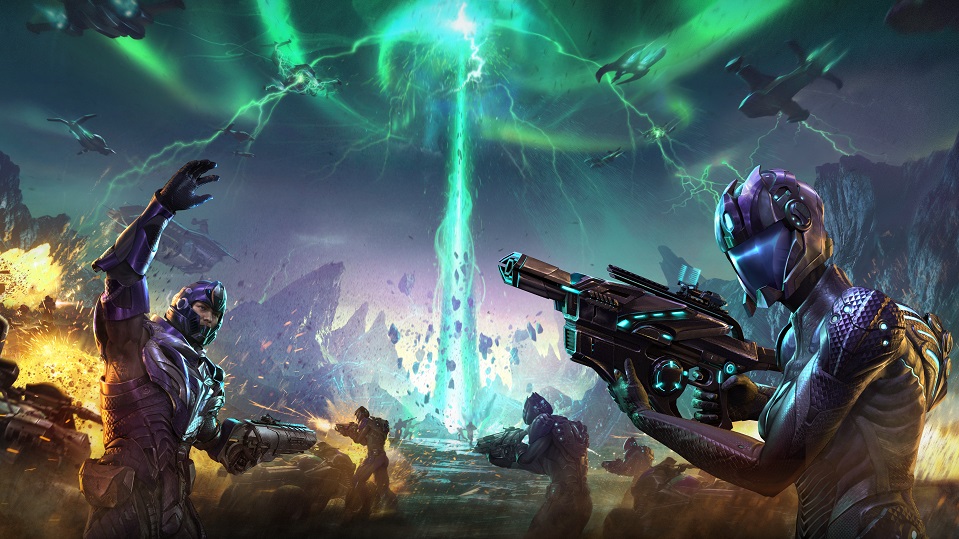 Since Daybreak Game Company split into three development houses, the team behind PlanetSide 2 has had its hands full making big changes to the game. March's Escalation update added the giant Bastion Fleet Carrier, with the colossal Colossus tank rolling onto the scene in June. You'd be forgiven if you thought those were the only plus-sized updates PS2 would be receiving in 2020, but Rogue Planet Games has a a few more big surprises up its armored sleeve.
The next update for the game is called The Shattered Warpgate, and we got a preview of it last week from Executive Producer Andy Sites and Lead Designer Michael "Wrel" Henderson. Our session opened with a video panning over the surface of a broken Esamir, PlanetSide 2's ice-covered continent, now scarred by some kind of cataclysm. Green energy bubbled up to the surface from rifts in the ground, icy rivers were melted, and frost-covered bases lay abandoned. At the heart of the devastation was, as the title suggested, the remains of a warpgate, now little more than a pile of rubble, with a geyser of energy shooting up from its remains.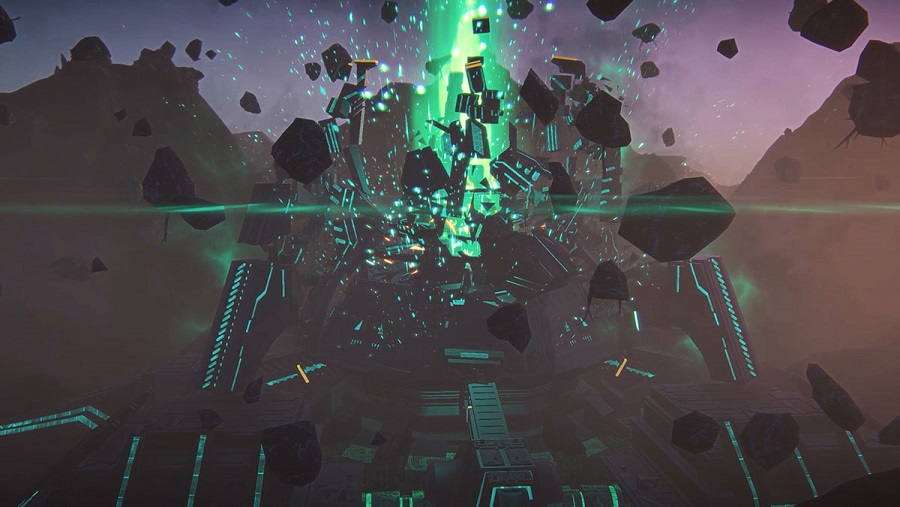 So what the hell happened? We weren't privy to the details beyond "everything's gone to hell" and it seems like players won't know much either, at first. This update is the first of several attempts Rogue Planet will make at "really infusing the lore" into the game, as Wrel put it. The events of this update will "link into future stories" as the dev team works to "tell a story through this campaign and all of the occurrences that have taken place on this continent." I can remember people asking for more lore back in PS2's early days, circa 2013, so hey – better late than never, right?
The Shattered Warpgate is just the first of many such campaigns, the first arriving on live servers in mid-September. They're described as "lore-driven updates," which will, as you might expect, offer bonus rewards to players who complete certain tasks. Paid members will get access to the campaigns for free, while free players can use in-game currency to sign up. There will be daily missions – three for free players and eight for members – as well as an overarching set of campaign missions. For their efforts at solving the mystery, players will receive currency that can be redeemed for various weapons and cosmetics.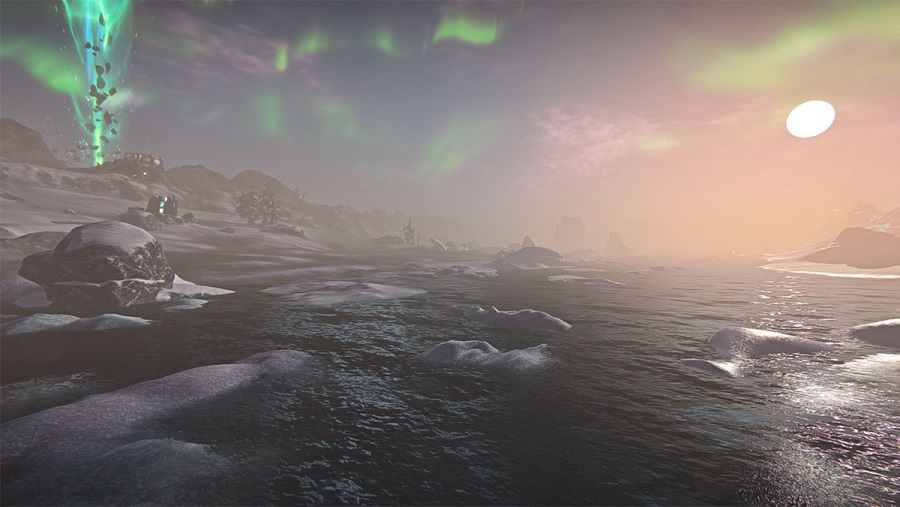 On thin ice
All of the new lore and rewards sound neat, but with the way Esamir's been changed, you'd be correct in assuming that gameplay on the continent will also undergo some major shifts. As you'd expect, each faction has a new warpgate, but once you emerge from its protective bubble, that's when things get hairy. Lightning strikes occur throughout the continent, with only a moment's warning, massively damaging characters and vehicles, and adding an environmental threat to the game for the first time.
Naturally, the soldiers of Auraxis have figured out ways to counter, and even weaponize, nature. You can toss a "lightning grenade" at your enemies in the attempt to draw the strikes to them, or set up a "lighting arrester" – basically a lightning rod – to draw the strikes to it and not you. Later in the season, I'm told, the various factions will find ways to harness that energy and also create containment facilities to further mitigate the damage from the storms. "We wanted to create more of a connection to the environment," Wrel told us.
At this point, I brought up some old press information and interviews with John Smedley around the time of H1Z1's build-up, when he talked about weather effects that would be present in that game. He mentioned that something similar could be done at some point for PlanetSide 2, since they used the same engine, and now it seemed like those plans were finally coming to fruition – and there might be more on the way, with "dust storms on Indar" being teased as a possibility. 2020 is "a springboard to the future," Sites said.
(Not everything's been changed, though. When I asked if all that melted ice meant that players could swim, I was met with a resounding "no." So that springboard isn't a diving board, sadly.)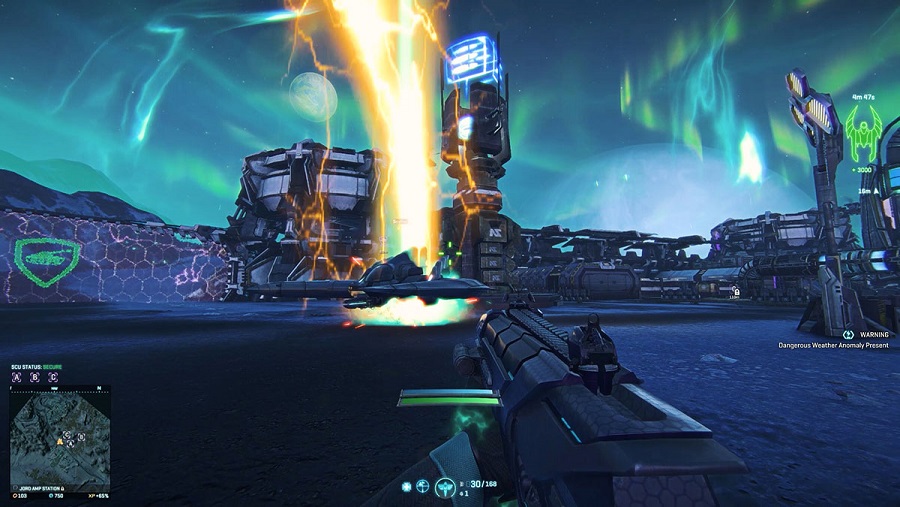 Wake up, soldiers
A few times during our presentation, Sites brought up how PlanetSide 2 had been in decline in recent years before getting new life in 2020. He "knew that there was a lot of passion" among players, but the realities of the situation – only a six-person team working on the game, with some former members being pulled onto other Daybreak projects – made it difficult to really provide impactful updates.
Things have changed, and I frankly wondered why. When a game loses players, it rarely pulls out of its tailspin and calls from a passionate fan base for the developers to just invest more into it "because it's got such great potential" usually go unheeded.
Yet that's just what happened with PlanetSide 2, and the results have been very positive. I asked Sites why it worked the way it did, and, indeed, why Daybreak even bothered to "send good money after bad," as it might have appeared. He told me that the team put together a "pretty compelling proposal and the powers that be realized how aggressive it was," confident that "if we did pull it off, it would turn the game around."
That appears to have happened. You can see on Steam Charts how the game only ever barely dipped above an average of 2,000 online players during any month from mid-2016 until early 2020. While that doesn't include players on other platforms or launchers, it was still an obvious decline from its early years, when it had double to triple those numbers.
That's all changed over the last year, with concurrent players on Steam rising from the low 1,000s to over 3,600 immediately after Escalation's launch and still holding steady over 2,000 now. Sites told us that for the first 30 days after Escalation launched, 90% of players were past players who hadn't played for years. "We wanted to use it [the studio split] as opportunity to really revitalize PS2," said Sites. The dev team has tripled in size, allowing for bigger updates like Escalation and The Shattered Warpgate.
All told, the PlanetSide franchise has been around for 17 years, with PlanetSide 2 taking up nearly half of that time; the game will celebrate its eighth anniversary in November. Over 16 million players have set boots down on Auraxis, enjoying the unique MMOFPS experience that PlanetSide 2 has to offer. As Wrel put it, "This game deserves to exist," and its success "shows that something like this is possible."
You can check out The Shattered Warpgate for yourself when it goes onto the PlanetSide 2 public test server soon.
---
About the Author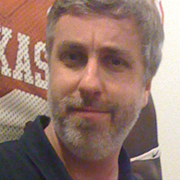 Jason Winter
,
News Editor
Jason Winter is a veteran gaming journalist, he brings a wide range of experience to MMOBomb, including two years with Beckett Media where he served as the editor of the leading gaming magazine Massive Online Gamer. He has also written professionally for several gaming websites.
---
Read Next
You May Enjoy