Water World: Our Interview With Lead Designer Michael "Wrel" Henderson On PlanetSide 2's New Continent
Oshur's "bold experiments ... can teach us a lot about improvements we can make in the future."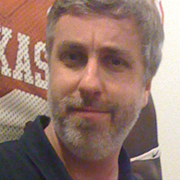 By
Jason Winter
, News Editor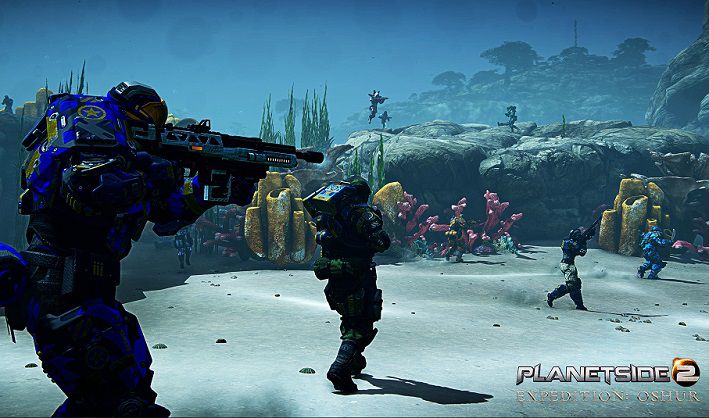 PlanetSide 2's first new continent in over seven years, Oshur, hit live servers last week. When we sent questions to Rogue Planet Games about the update, we were expecting them to come back before launch, so you'll have to excuse us if a few of the questions we posed to Lead Designer Michael "Wrel" Henderson seem a little forward-focused. The entire game takes place in the future, so what's wrong with being a few days behind schedule? Or were we ahead of schedule? Now I'm getting confused...
MMOBomb: Reading the dev blogs, it sounds like there are a lot of aesthetic issues, like with graphics and sound underwater. Is this the sort of thing that Forgelight was never designed for and you're now having to contend with? What's it been like, having to adapt to this new environment?
Wrel: As our ambitions grow, our technology needs to advance as well. We're definitely pushing the envelope with what our engine has been capable of over the years, but investing in new technology is something we've been doing consistently as well.
MMOBomb: Are you concerned about the perceived realism with regards to how vehicles interact with water? Having a Sunderer float like a boat seems a little weird to me.
Wrel: It feels surprisingly natural for our game and definitely fits into the universe. PlanetSide 2 has always had physics that leaned toward fun over fact, with air vehicles that dance backwards and upside down, defying gravity with unique flight controls; hovering vehicles that can ride up sheer cliffs and launch themselves skyward; orbital strikes that launch you through the air instead of disintegrating you on the spot. More importantly, we wanted to make sure that all of our vehicles and infantry interact with water in a way that feels interesting and creates new tactical opportunities.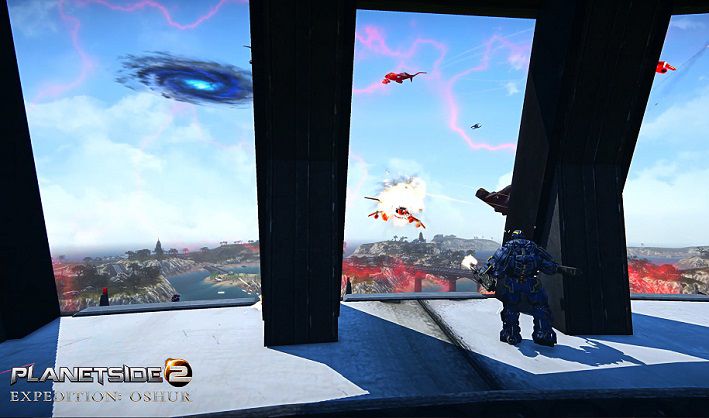 MMOBomb: Will there be a storyline revolving around Oshur, like there was for Shattered Warpgate? If so, can you give us a hint or two as to its nature?
Wrel: The last chapter of the Distant Shores campaign focuses on the return to Oshur, and follows a thread for some of what happened prior to and after the evacuation of the islands themselves. It's less in-depth than the Shattered Warpgate's campaign was, and we decided to use this chapter of the campaign to take the player to interesting places and teach them a bit about the new water mechanics.
MMOBomb: The Trident Relays really stand out above the surface of Oshur. Can you give us an idea as to their importance and how players should go about attacking or defending them?
Wrel: Staying power is the most difficult part of assaulting the Trident Relays. We've introduced a modified version of the Galaxy called the Lodestar (a callback to the original PlanetSide) that can deploy and act as a public spawn point. This is the main method you'll see players use to keep the troop reinforcements flowing as the base becomes a battleground. As far as importance goes, the Trident Relays have a lattice connection (lanes that determine which bases are open to attack and defend) that cuts deep into the enemy's back lines, adding strategic depth to the map experience.
MMOBomb: What else can players look forward to on Oshur? Any particular feature(s) that you're especially proud of?
Wrel: Oshur has loads of terrain variation and diverse base layouts, and the water has added another tactical layer to the entire experience. This map incorporates a lot of learnings from earlier maps, while also conducting some bold experiments that can teach us a lot about improvements we can make in the future, both to this map, and the previous ones. So, I'm excited by the potential, and extremely proud of the team and what they were able to accomplish on this nine-year-old title.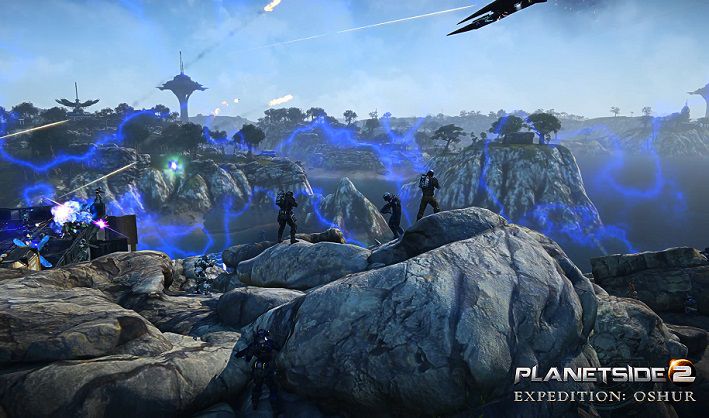 MMOBomb: What kind of updates will players see to the construction system?
Wrel: There's a fair amount of bug fixing, particularly for our robotic mercenary faction. Most of the changes are quality-of-life improvements though, things that will make harvesting and depositing of resources found around the map faster and less painful. The hope is that this encourages more participation in construction overall.
MMOBomb: I know you don't want to make any commitments, but now that Rogue Planet has seemingly more resources and better ability to carry out larger updates, do you think it'll be less than eight years before we see the next new continent?
Wrel: I'll say that the team we have now is solid, and I look forward to watching the game evolve over the years to come.
---
About the Author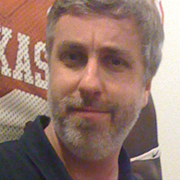 Jason Winter
,
News Editor
Jason Winter is a veteran gaming journalist, he brings a wide range of experience to MMOBomb, including two years with Beckett Media where he served as the editor of the leading gaming magazine Massive Online Gamer. He has also written professionally for several gaming websites.
---
Read Next
You May Enjoy