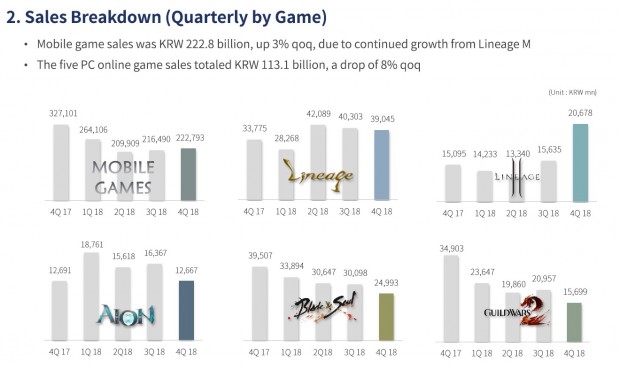 Usually, the fourth quarter of a year, which includes the Holiday Season, sees a bump in sales for corporations. Not so for NCSoft, which closed out 2018 with soft sales numbers for nearly all its games with overall numbers for the year falling below 2017's results.
Lineage 2 was the only game that saw an upward spike in sales for the quarter, as Lineage, Aion, Blade & Soul, and Guild Wars 2 all went in the opposite direction. NCSoft's mobile business was also up, but only barely, which the company attributes to "continued growth from Lineage M."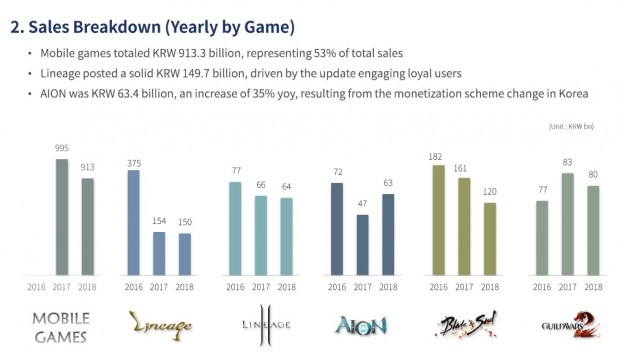 The yearly results also paint a less-than-ideal picture. Aion was the only sector to pull in more money in 2018 than it did in 2017, which is attributed to "the monetizaton scheme change in Korea"; it went F2P in Korea in January. Meanwhile, Guild Wars 2's Q4 sales numbers resemble what they were for the better part of a year before the last expansion's launch. Unlike last time, though, we aren't likely to see an expansion this year, so it will be interesting to see how ArenaNet paces things.
NCSoft's overall income was down a little in 2018, as compared to 2017, but — thanks in large part to the mobile business — is still far ahead of what it was in 2016. You can check out the financial report for your self by downloading it from the NCSoft Investor Relations page.