Preview: GW2's Next Update Takes Players Back To Thunderhead Peaks To Prepare For War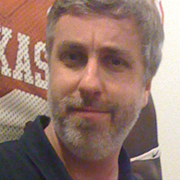 By
Jason Winter
, News Editor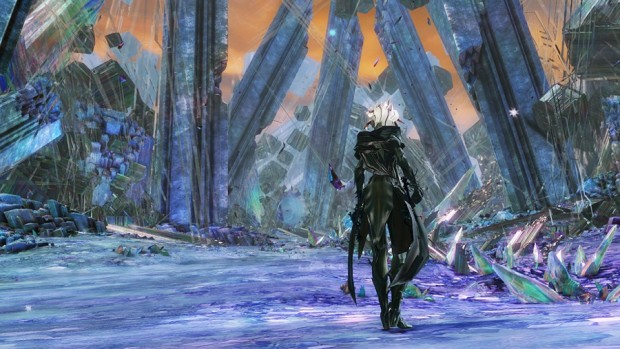 The Holiday season might have slightly delayed the latest Living Story addition to Guild Wars 2, All Or Nothing, but it will soon be live in all of its shiny glory for everyone to enjoy. There's a lot going on in this installment, which the ArenaNet devs called "jam-packed" when we got our press preview a few weeks ago, so let's dive right in!
The story kicks with Kralkatorrik fighting with Glint in the Mists. "This story in particular is huge, there are a lot of huge moments. We want to make it feel like there's a grandiose feeling, even the hearts," said Designer Clayton Kisko during our playthrough. Two dragons going at it while a third, Aurene, is your ally sounds pretty huge.
You'll journey to a representation of Glint's lair in the Mists, searching for a Dragonsblood Spear to strike down Kralkatorrik, identical to the one used by Destiny's Edge nearly a decade ago when they first attempted to slay the elder dragon. Naturally, it's not as easy as just finding a supermagical spear lying around. You'll need to endure trials, face your greatest fears, channel the power of your bond with Aurene, and all that jazz. Only then will Glint bless you with the spear and send you on your way.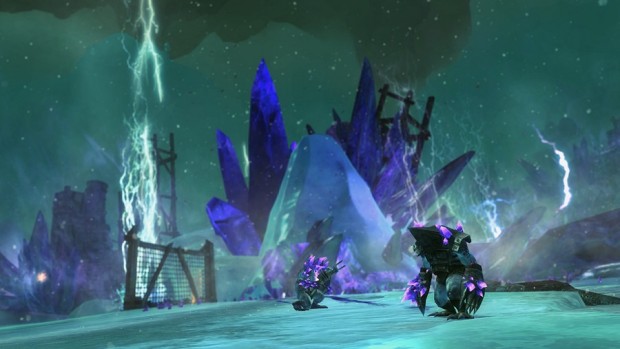 That way takes you to Thunderhead Peaks, a new zone that consists of several iconic locations that should be familiar to fans of the first Guild Wars. It's there that you'll embark on the mission to arm yourself and your allies for war. Your main base is a large cave structure that houses, among other things, the dwarven Dragonsblood Forge, which you'll use not only to craft the spear to defeat Kralkatorrik, but a new legendary longbow and 32 weapon sets. These sets have Diviner's stats – Ferocity, Precision, Power, and Condition Damage – and are obtained via 32 new collections.
Sorry if this sounds like a bad sales pitch, but "But wait, there's more!" There are other regions to discover within the zone, such as GW-famous locations Thunderhead Keep and Deldrimor Ruins, which are crawling with Deathbranded Forgotten, who are eager to drive you and your allies out of the area. There's also a new Fractal, Siren's Wreath, which was described as a "cursed island with a ghost pirate army."
On the cosmetic side, there are new titles to strive for, Logan's got new armor, and there's a choir singing the background music in the area. According to Kisko, it's not just about adding more content, though. The dev team wants to strike a "careful balance" to be "efficient and smart" with content. "It's not sustainable to just get bigger and bigger. How can we be different and just as good?"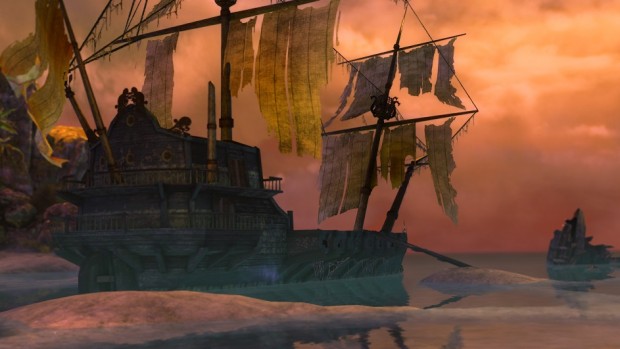 Is that working out? Back in the day, around the time of the game's first expansion launch, content updates were irregular, infrequent, and often judged as too light. Now, ArenaNet's has settled into a better groove regarding updates, and there's plenty going on in this one, but it's hard to say that they feel "special." The hype just doesn't seem to be there like it was in the past when a new installment was announced -- usually accompanied by several articles regarding all the new stuff that was coming, drip-fed to eager fans like the drug of choice that it was. Now there's an announcement post, a trailer, and, well, these press previews. Are you excited?
The hype will likely be building over the next few months, though, as the story clearly has players on an arc to fight yet another elder dragon. This is the fifth installment of this season's Living Story; the last season ran six episodes and was followed by an expansion in September 2017. ArenaNet's not saying anything now, but smart money would have us betting on another update around April and an expansion around September or October, keeping them on a two-year cycle. That's when you'll finally get to finish what Destiny's Edge started and take down Kralkatorrik for good – assuming that Logan doesn't run off and Rytlock can throw straight this time.
All Or Nothing goes live in Guild Wars 2 tomorrow, Jan. 8.
---
About the Author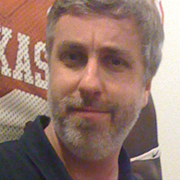 Jason Winter
,
News Editor
Jason Winter is a veteran gaming journalist, he brings a wide range of experience to MMOBomb, including two years with Beckett Media where he served as the editor of the leading gaming magazine Massive Online Gamer. He has also written professionally for several gaming websites.
---
Read Next
You May Enjoy