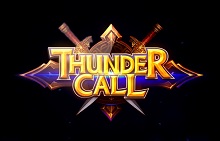 About the game:
Title:
Thundercall
Status:
Released
Graphics:
2D
Genre:
Strategy
Type:
Browser
Developer:
R2 Games
Publisher:
R2 Games
Explosive Features:
ARPG Action
Multiple Game Modes
Battle Pets and Mounts
R2 Games' Thundercall is a free-to-play browser-based ARPG that puts you in the middle of intense battles against the endless demon hordes and monstrous bosses. Play as either a battle-hardened warrior or a powerful mage, join a guild, and ride your mount into battle to earn fantastic rewards!
There are many different types of ways to play, such as team dungeons, boss rush, daily dungeons and events, and the dangerous Infinity Tower, which houses some of the most diabolical monsters in the game. The gear you earn can be upgraded in the forge to make you even more powerful, and acquire battle pets and mounts that will fight alongside you in battle.