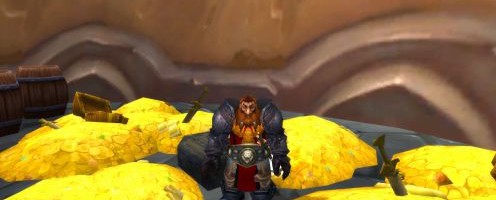 I think it goes without saying that the only thing better than playing a game for free, would be playing a game for free and actually making money off of it (well maybe playing a game for free while beautiful, scantily-clad women massage you, feed you, and encourage you would be even better, but maybe that's just me). Well that's exactly what you can do with just about any free online game on the market. So if you have a hole burning in your pocket that demands to be filled with cash, read on to find out just how to do.
You can make money off of virtual objects
What many gamers don't know is that virtual money, items, characters, etc. in every free MMO game on the market have a real world cash value. Every time you level your character, acquire a new weapon, or gain reputation with a faction, the real world value of your account is increasing. While I wouldn't advise it as a career choice, there are people who can make a modest living off of playing MMO games, simply by building up characters, items, etc. and then selling them.
If you have any interest in selling virtual items, remember that the value of your virtual item may fluctuate based on your reputation in the game world (which savvy buyers may look into). Remember also that lots of games don´t allow sales, conducting any type of transaction involving their intellectual property is against the TOS and would likely get you banned from the game. It's up to you to be sure whether or not what you want to buy or sell is allowed. Even if it is allowed by the game, it may not be allowed for example by Ebay, or vice versa.
The best known example of this is Second Life: According to eBay Second Life is not considered a game, and thus the sale of Second Life virtual items is not prohibited. Some "Virtual Worlds" (Second Life, IMVU, Planet Calypso, etc.) include user product creators programs that allow users to sell and purchase products which they can use in these environments. These Virtual Worlds encourage users to be creative and sell their goods using the virtual currency. Take, for instance, what just went down on Planet Calypso, where one of Entropia's wealthier players has sold off his interests in a "Asteroid Space Resort" for an eye-popping $635,000 real world dollars.
Do You Have the Write Stuff?
A great way to make money off of your favourite free to play game is to write about it. Gamers are always on the lookout for tricks, strategies, and techniques. You could start a blog about your favourite game and then sell advertising space as it grows in popularity and readership. This will require a (free) blog account such as Blogger, WordPress, LiveJournal to get started. In order to earn money you'll need to display ads on your blog and the easiest way to do this is to sign up for a free Google AdSense account. Once you get rolling, you could also look into becoming an affiliate for relevant products and making additional money through your blog by promoting those products.
You could also apply to write articles or make videos for some of the large game portal sites like MMOBomb.com, which are always on the lookout for great writers and content (and most will pay a set rate per article).
MMO strategy guides are also big business right now, so if you feel you have what it takes to write a comprehensive guide on your chosen game, that's certainly an option. Guides can be massive depositories of knowledge and tactics for the entire game, or can be smaller offerings focusing on just one aspect of the game (such as raiding, PvP, or building up a specific character class). You could either go it alone and write and release the guide yourself (which would also require some marketing and possibly web development knowledge as well), or apply to write a guide with one of several MMO portals like MMOBomb.com or MMO Guide sellers.
Go Pro Yo
One of the biggest realms of gaming money making to be found is in professional tournaments and gaming leagues, and this unfortunately is a realm that Free to Play MMO's have failed to penetrate thus far for the most part. Most MMO games simply don't have a viable way to conduct any type of online gaming league or tournament.
Still, there's hope on the horizon for free MMO players, as RuneScape has enjoyed a successful one year run with Major League Gaming thus far, the most prominent gaming league in North America, and the free League of Legends has also been added to their stable of games. It's hoped that more free MMO's will add options to their games in the future that make them suitable for cash tournaments or leagues, such as PvP arena modes and the like.
Don't be Afraid to Test Your Luck
When it comes to sweepstakes, giveaways, contests and the like, there's generally two schools of people. The ones who can't be bothered to enter for the most part (unless the prize is really compelling), feeling their chances of winning aren't worth the effort, and those who enter every possible contest they can get their signature, real or virtual, affixed to.
Most MMO publishers run occasional contests and giveaways, and unless the contest is asking you to draw a picture of your character and you were born without a visual arts bone in your body, or asking you to write an essay on the relevance of MMO's in modern society and you don't even know what relevance means, there's really no reason not to enter, as your odds of winning are probably not all that bad.
While you may not win any actual cash, you could win some cool gaming gear, such as clothing, collectibles, or electronics. You could also win cash shop money to purchase in-game perks or items with, so if you're a regular cash shop money purchaser, that's just as good as extra cash in your wallet (or on your credit card, or in your Paypal account, or in your… I ran out of ideas, never mind).
If you usually don't have luck, you can easily get BombGold coins, and you don´t need any luck for that. BombGold coins is a virtual currency from MMOBomb.com that you win just for having fun participating in the MMOBomb forum. When you have some BombGold you can exchange it for virtual goods from your favorite games, among other cool things that you may find in the MMOBomb Shop like paypal gifts.

Conclusion
These are just a few ways you could profit off that free MMO games you enjoy, and there are probably many others besides these (like making videos). Yet while making money is great, don't let the drive to earn money off your gaming experience tarnish the actual experience itself. Trying to put a price tag on something that is priceless is a recipe for disaster.
---
Read Next
💣 Feature |

Women, Sex and MMO Games
You want to start a new MMORPG, so you have two options to choose which one: a recommendation from a friend or looking around the internet to read about others opinion about the best Free-To-Play MMORPG out there.
By MMOBomb Staff - 12 years ago
You May Enjoy